Dean's Blue Hole is on fire. Today two giants in the sport of freediving smashed through to new depths and two new world records at the Suunto Dive-Off. William Trubridge and Herbert Nitsch both successfully achieved the world-record performances they previously announced, in Free Immersion and Constant Weight respectively.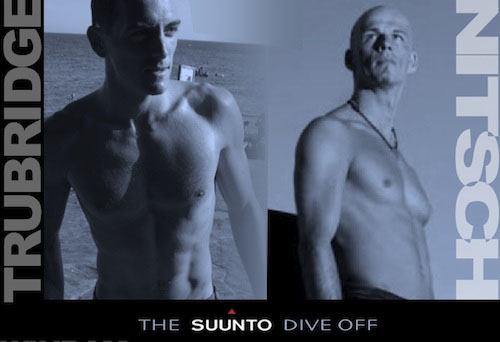 Trubridge completed his dive to 116 meters FIM in four minutes and nine seconds and secured his tenth world record in the process. Additionally, with this new 116m record dive William surpasses Herbert's latest free immersion world record dive, which happened only 3 days earlier at Vertical Blue 2010.
Nitsch tacked on a second and a few meters to be the first man to ever succesfully dive to 124 meters under constant weight in a formal competition. Nitsch's CWT dive took four minutes and 10 seconds.
The speed at which both athletes are racking up new records, belies the sheer strength, calm confidence and ability necessary to execute these dives. One world record in a competition is amazing. The results we are witnessing from these two freedivers are simply stunning.
Stay tuned to Vertical Blue to see what other super-human feats this spectacular competition will bring.