Suunto Vertical Blue 2012 is delivering some terrific freediving performances. Athletes from all around the world have descended upon Long Island in the Bahamas to descend into the dark blue abyss of Dean's Blue Hole. Among the dozens are competitors is Yaron Hoory of Israel. Yaron has accomplished a very distinct achievement: so far in the  competition he has completed four dives, received four white cards and now touts four new national records for Israel, all within five short days. There is a synchronicity to it all that can be attributed to Hoory's focus, and slowly & steadily executing against a plan. His first dive was in free immersion to 73m the first day, then he took a day to rest. On the third day his second record in constant weight with a second dive to 74m; then on the fourth day a another CWT dive to 78m.  "The only thing better than getting a white card", said Yaron, "is getting a red card that you turn into a white card!" Hoory's joking comment refers to his 78m CWT performance where he received a red card for a surface protocol foul, that he protested and was then reviewed on video by the judging jury and found to be acceptable. Today the fifth day of the event Yaron clenched the fourth record by demonstrating his strongest dive yet to 78m FIM.
"I'm really enjoying Suunto Vertical Blue and will continue competing in free immersion and constant weight," Yaron commented. As for no-fins, that will have to wait for another day and another well crafted plan.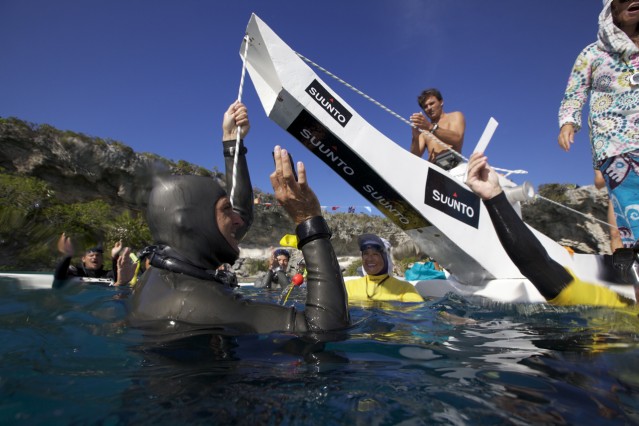 photo © Daan Verhoeven
Get More Articles Like This!
Subscribe to our weekly newsletter and get more interesting stuff like this direct to your email inbox every Friday.