Fifty years ago, two brave men sealed themselves inside a tiny steel spherical bathyscaphe and plunged into the depths of the Western Pacific to become the first and only people to reach the deepest surveyed point in the oceans, 11 kilometers down. The Trieste submarine was manned by oceanographers Jacques Piccard and Don Walsh; Jaqcues was the son of the Swiss physicist who designed the craft — Auguste Piccard.
Steadily dropping down through the fathoms, the fourth hour of their descent was abruptly jolted by the cracking of a porthole, but they steadfastly continued and eventually landed at the southern end of the Mariana Trench — an astonishing 11,000 meters down. They spent a total of 20 minutes on the bottom before they ejected their ballast so that the Trieste could lift off and begin it's 3 & 1/2-hour journey back to the surface.
Although six other nations have successfully developed deepdiving submersibles, even the most recent, the Chinese Harmony 7000, built in 2007, has yet been able to repeat the depths & journey managed by the United States on the Trieste on January 23, 1960.
But now there is a race to return. Fueled by the opportunity to win an X Prize as well as their own innate curiosity and pioneering spirits, James Cameron, director of Titanic, the Abyss and Avatar, and Paul Allen, co-founder of Microsoft, seem to be the main contenders in a race to return humans 36,000 feet below sea-level.
James Cameron is passionate about the ocean, as evidenced by the sea-life like quality of the images in his latest film Avatar, "We are building a vehicle to do the dive. It's about half completed in Australia."
Read more about the Ocean X Prize here and stay tuned to DeeperBlue.com for our exclusive reports on the progress.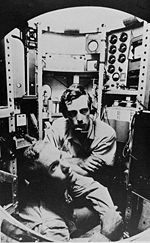 The "bathyscaphe" is now on display at the naval museum in Washington, D.C. USA.