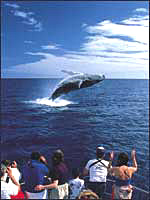 Three humpback whales were sighted this morning about 200 to 300 yards offshore from the Embassy Suites in Ka'anapali — Maui's first humpback whale sightings of the season, reports Pacific Whale Foundation.
The three whales were observed at around 7:30 a.m. by Earl Smith and his wife Maureen O'Hara Smith. They watched the trio with binoculars from their lanai at the Maui Kai, which is next door to the Embassy Suites. A Maui resident for 34 years and a fisherman, Earl was certain that the animals he saw were humpback whales.
"They were just on the other side of the reef, coming from the direction of above Napili," said Earl. "They were swimming towards the Ka'anapali resorts."
He saw the whales' backs or dorsal areas; his wife was able to see larger areas of the whales' bodies.
"The whales are right on schedule this year," said Greg Kaufman, noting that the season's first reported sightings in recent years occurred on November 6 (2002); October 30 (2001); September 16 (2000); September 30 (1999); and October 13 (1998). Kaufman is the president and founder of Pacific Whale Foundation and co-author of the book, Hawaii's Humpback Whales.
The Smiths commented that the whales did not appear to be full size, indicating that they may be juvenile whales. This is consistent with other early season sightings in Hawaii and in other parts of the world.
"Pacific Whale Foundation's extensive research in Australia, where we have been able to observe seasonal humpback migrations over a long coastline, shows that the earliest whales in the winter calving areas are frequently juveniles," remarked Kaufman.
The humpback whales travel a distance of about 2,500 to 3,000 miles from their summer feeding areas near Alaska to the warmer waters of Hawaii. While in Hawaii, the whales mate and give birth to their calves.
"We'll be getting sporadic sightings from this point on, as the whales arrive and disperse throughout the Hawaiian Islands," says Kaufman. "It's likely that we'll be hearing of the season's first sightings in Kauai soon."
"The whale sightings will become more consistent around mid-November, and then like clockwork, there will be daily sightings starting December 1st," says Kaufman.
Hawaii is the nation's primary mating and calving grounds for the endangered humpback whale. Hawaii is also home to the only National Marine Sanctuary dedicated to the endangered humpback whale, the Hawaiian Islands Humpback Whale National Marine Sanctuary.
"With the recent trends showing the whale population growing in the range of 6 to 8% per year, we are looking forward to another terrific whalewatdch season," says Kaufman.
To help whalewatchers learn more about Hawaii's humpback whales, Pacific Whale Foundation is offering a free guide, "Watching Hawaii's Humpback Whales," upon request. Simply mail a self-addressed, stamped envelope to Pacific Whale Foundation, Free Whale Guide, 300 Ma'alaea Road, Suite 211, Wailuku, HI 96793. The guide is also available online at www.pacificwhale.org.
Get More Articles Like This!
Subscribe to our weekly newsletter and get more interesting stuff like this direct to your email inbox every Friday.