Press Release:
For the eleventh timeconsecutively, PADI EUROPE was awarded withthe prestigious TAUCHEN award. The reader's choice award is given yearly in 17different categories of the diving industry – from dive-centers throughresorts to equipment categories – and diving education.
PADI is and has been theonly winner for all the eleven first prizes since the creation of theaward.
The award of the title "Best association for education in diving" by theGerman diving magazine "Tauchen" is one of the most traditional events duringthe exhibition "Boot" in Düsseldorf. This year PADI has won it for the eleventhtime consecutively.
On Thursday of this year's exhibition, the magazine "Tauchen" organizedits traditional gala event and as with every year all key persons of the divingindustry have assembled. Alexandra Jahr, editor of "Tauchen" and Carolyn Martin, editor-in-chief celebratedthe presentation of the 17 winners. Being once more chosen as the winnerin its category for 2008 was a proud achievement for PADI and itsrepresentatives: it is a renewed testimony to the quality of PADI's educationalprograms and ongoing successful campaigns.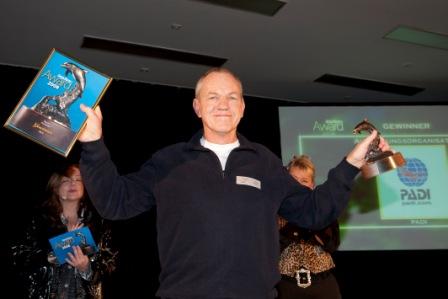 Jürg Beeli, Chairman of theBoard PADI Europe, receives the award from Alexandra Jahr and Carolyn Martin.
PADI Europe isthe European branch of PADI, the worldwide most important organization foreducation in diving. PADI Europe was founded in 1983 with headquarters inHettlingen Switzerland.Nowadays PADI Europe reunites around 1'100 Dive Centersand Resorts, embracing PADI's continuing education concept, starting from thepopular beginner course up to the professional level.
PADI Europehas around 70 employees. This figure not only includes the staff of theheadquarters of Hettlingen (Switzerland),but also PADI Regional Managers and Examiners responsible for customer careabroad.