Jean-Michel Cousteau's Ocean Futures Society has formed an exclusive partnership with the Aggressor Fleet of Dive Yachts and Scuba Schools International (SSI) to give divers an opportunity to earn a Reef Ambassadors Master Diver Certification.
This new specialty course through SSI is unique because the entire program takes place onboard one of the Aggressor dive yachts. This course is by far the most intense specialty courses as divers can log on average 5 dives and day, spending over 30 hours underwater while on their dive vacation. This gives divers an up close and personal connection to richness, diversity and fragility of reefs.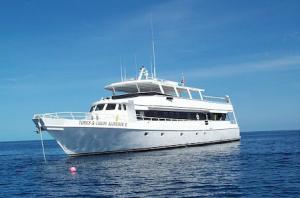 Reserve a spot in the Reef Ambassadors program, which is now being offered aboard the Turks & Caicos Aggressor II yacht, by contacting the below.
Tel: (800) 348-2628
Web: http://www.aggressor.com