Grand Cayman, Cayman Isalnds — Results from Day One of the Formula 3 Freediving races (being held by PFI in Cayman) are coming in. 5 teams, each with 3 scooter pilots, had to navigate their way through 10 gates spaced out in slalom fashion. The round trip total course length was a distance of 100m. Each pilot had two runs at the course on their speedy Dive Xtras Cudas and the best time from each racer was added together, then averaged, for a total team score.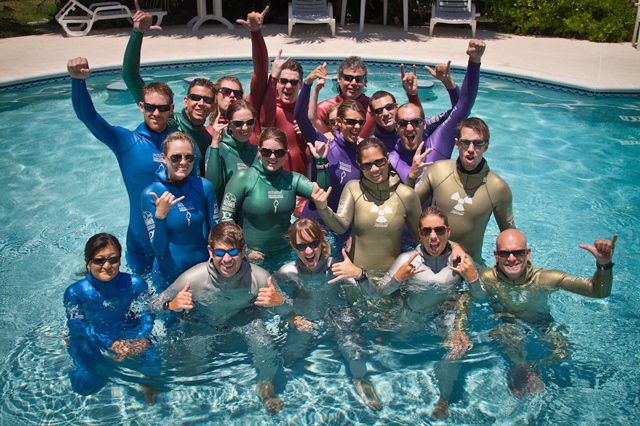 Day 1 Team Time/Point Standings:
Gold Team (Gold Fusion) = 03:23:17/10 Points
Silver Team (Hell's Angelfish) = 03:25:66/8 Points
Purple Team (Scootin' Uni) = 03:33:00/6 Points
Blue Team (Liquid Machine) = 03:35:02/4 Points
Green Team (XLRacers) = 2 Points
Watch the video highlights from the heats of day one (courtesy of Goh Iromoto) here below.
Stay tuned to DeeperBlue.com for more updates on F3F and for more information on the teams check out the official Formula 3 Freediving website brought to you by the one and only Performance Freediving International.
Photo courtesy of PFI.