Tesco's, a major UK supermarket, was spotted, by DeeperBlue.com founder Stephan Whelan, selling a t-shirt with the slogan "Reel Men Fish For Sharks". After posting details of this T-shirt on facebook Bite-Back, a shark and marine conservation charity in the UK launched a Facebook attack on the supermarket giant demanding its removal. Within seven hours the country's biggest retailer bowed to pressure.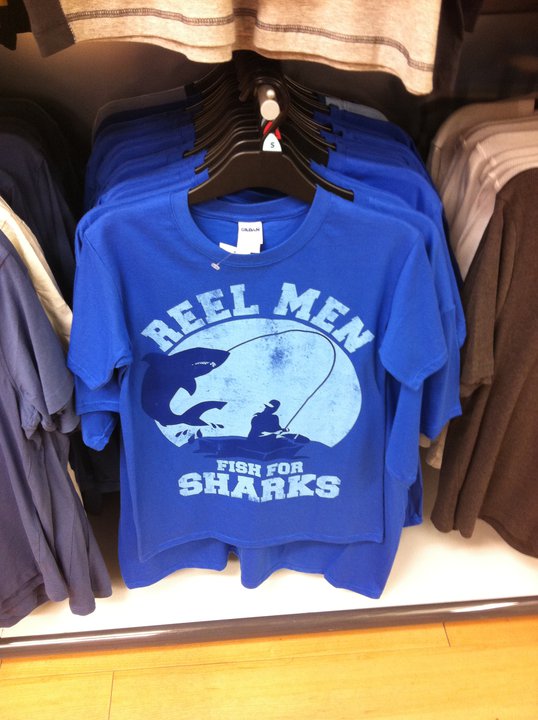 In that time more than 80 Bite-Back supporters had posted articulate and deliberate requests for the items to be taken from the supermarkets when the message came through from Tesco saying, "As a result of customer feedback we've decided to remove the t-shirt from our stores. We're sorry for any offence caused."
Campaign director for Bite-Back, Graham Buckingham, said: "The t-shirt promoted the idea that shark fishing is acceptable, fun and macho. We're here to say that it's not.
"What impressed us was the speed of response and ferocity of request from supporters. We're immensely proud to have the backing of so many passionate, persuasive and committed individuals. In fact this victory is clear evidence that Bite-Back can be a powerful force for changing the way the world views the oceans."
This victory comes hot on the heels of recent and similar skirmishes by Bite-Back that have prompted This Water to remove a shark fishing prize from an on-pack promotion and inspired Makro cash-and-carry to end the sale of blue shark in 30 outlets.
Graham Buckingham said: "We're delighted to achieve real results that make people proud to have participated. It's a brilliant team effort."