You may know him, or know of him, or at the very least, you will have come across his stunning underwater photography. This coming Friday October 9, 2009, do not miss your chance to meet the man who has made breath-taking images his livelihood.
Former world record freediving champion Frederic Buyle will be in front of the cameras for a unique documentary produced for Thalassa. Airing in France every Friday evenings on channel France 3, Thalassa is an award-winning tv magazine created and hosted by Georges Pernoud. The October 9 broadcast will also be a very special occasion since Thalassa will be celebrating its 30-year anniversary. While the piece about Fred Buyle was filmed in the summer of 2008, it was hand-picked along with three others to air on the very evening which will commemorate the magazine's anniversary, an honour for the underwater photographer.
Thalassa is broadcast in over 90 countries, thanks to channels such as TV5, RFO and Planète Thalassa. The show can also be seen online at http://www.thalassa.france3.fr/. Fred Buyle is currently filming a documentary about humpback whales in Rurutu, French Polynesia, accompanied by fellow champion freediver William Winram.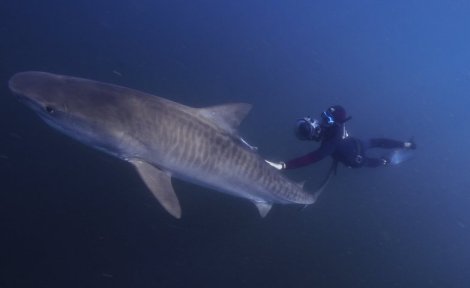 Photo: William Winram – http://www.williamwinram.com
Image caption: Fred Buyle – http://www.nektos.net catching a ride with a female tiger shark
Location: Indian Ocean off of Durban, South Africa, April 2008
News by: michele@williamwinram.com