KarolMeyer, world record holder freediver and considered "Best adventurer"by the international magazine GoOutside has not been drinking to have seen pink dolphins. She has stayed a week in the largest jungle inthe world, the Amazon rainforest, with ESPN radical TV Channel and the reporterRenata Falzoni. The main purpose wastake the trip with the winner of Mormaii Eyewear promotion, andcontribute to the project called Amazon Project http://www.projetoamazonia.com.br/ which shows the beauty of this amazing place to young people and the importanceof its conservation.
Oneof the "missions" was a dive with the most primitive species ofdolphin, one of the five freshwater species of dolphins in theworld, the pink Amazon River dolphin. The Amazon river dolphin is a mammal of theorder Cetacea, native of the Amazon and of the coast of the Atlanticand the Pacific, similar to the sea dolphin.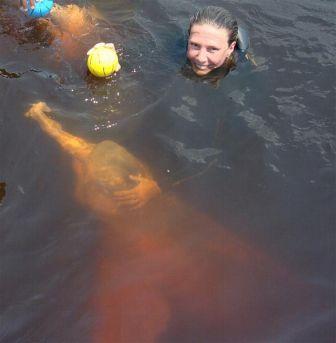 Karolfreedived in the Negro river and found this so special pink dolphin incrediblyintelligent and amiable. In an interview she recallsthe words of Charles Darwin; "There is no fundamental difference betweenman and the higher mammals in their mental faculties. The difference in mind between man and thehigher animals, great as it is, certainly is one of degree and not of kind. Wehave seen that the senses and intuition, the various emotions and faculties,such as love, memory, attention and curiosity, imitation, reason, etc., ofwhich man boasts, may be found in an incipient, or even sometimes awell-developed condition, in the lower animals."
Shewent on further to say "I'm very glad to be a Mormaii athlete and be partof this so important project. Even fully protected by law in Brazil and Boliviaand partially protected in other areas like Peru, Venezuelaand Colombia,today the pink dolphins die due to commercial fishing wherethey use the dolphin's body to fish! The Amazonia,outside water and underwater have unparalleled biodiversity, and claim for aspecial attention from all of us. Beyond it, this biggest rainforestis our world "lungs"!
Acomplete programme will be shown in the beginning of 2010.