Grant Graves reports:
TheUnited States Apnea Association (USAA) is pleased to announce that Robert King,a USAA member, set a new men's national record in the freediving discipline ofConstant Weight No Fins to a depth of 53 meters on April 22, 2008, during theThird PFI Cayman Invitational 2008 Competition taking place in Grand Cayman,BWI. This performance surpasses theprevious record of 50 meters set by Rob at the 2007 AIDA Individual WorldChampionships in Egypt.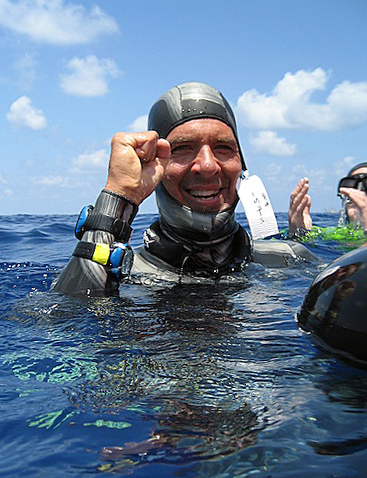 Rob'sdive took two minutes and five seconds to complete. This is Rob's third national record in thisdiscipline. Rob began his competitivecareer in freediving as a member of the US Freediving Team at the AIDA TeamWorld Championships in 2006. He hassince made great strides in his diving. Rob states, "I would like to thank Kirk, Mandy-Rae Krack and PerformanceFreediving International for setting up the Cayman Invitational – it's a greatenvironment for record attempts." Robwould like to dedicate this record to his niece, Delphine, who is just learningto dive.
ConstantWeight No Fins (CNF) tests the freediver's ability to swim to depth and return withoutthe use of fins while holding their breath. CNF is one of the most difficult disciplines in freediving. Athletes use a modified breaststroketechnique to propel themselves to depth and back.
Forupdated competition results checkout www.performancefreediving.com.
TheUSAA is a nonprofit association founded on the democratic representation offreediving within the United States and internationally. Founded in 2003, the USAA consists of anactive membership dedicated to furthering freediving in the United States andabroad. For more information about the USAA, the U.S. National Freediving Team,and membership please visit www.usfreediving.org.
TheInternational Association for the Development of Freediving, AIDA, is theinternational sanctioning body for freediving, individual and team competition,and freediving world record attempts. For more information about AIDA please visit http://www.aida-international.org.