Kalamata, Greece – New Zealand's own mistress of the deep Niki Roderick has re-set a new national record in the freediving discipline of constant no fins. On June 17, 2010 at the 3rd Mediterranean Freediving World Cup in Greece, Niki Roderick executed a very clean dive to 57 meters CNF.
Niki's roundtrip swim took two minutes and :46 seconds to complete and firmly keeps the constant no fins record for New Zealand (and now Continental) in her hands. With this latest CNF dive to 57m, Roderick improves upon her own previous record of 55m which she set back in 2009.
Niki currently lives and trains off of the Gulf Stream in Florida with her partner Martin Stepanek. Together this dynamic water-duo run Freediving Instructors International — training instructors and teaching students the world over.
Earlier this year, expectations were high for Roderick to perform well at Vertical Blue 2010, the invitational competition for elite freedivers at Deans Blue Hole in the Bahamas, but a double whammy of sinuses and sickness kept Niki at bay. So diving well in Greece is that much sweeter, "…I settled in for a fast ride to the bottom plate and managed to stay relaxed as the lactic hit on my ascent," said Roderick. "I could not be happier with this one!"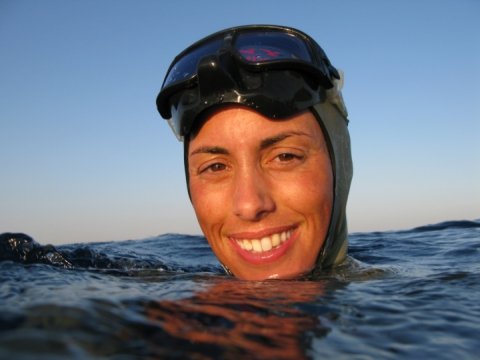 DeeperBlue sends its heartiest congratulations to Ms. Roderick.
Photo courtesy of Niki Roderick.