Kalamata, Greece — The 3rd Mediterranean Freediving World Cup is hosted by the Municipality of Kalamata in collaboration with Freediving-Club Greece and is under the auspices of AIDA Hellas and AIDA International. After just a few official competition days, and one "record-attempt" day, the Med World Cup has seen one World Record and ten National Records change. As reported on DeeperBlue yesterday, the World Record in Variable Ballast at 125m now belongs to Natalia Molchanova from Russia.
William Winram completed a strong dive to 97m FIM this week, which secures his title as the new Continental Record holder in free immersion. And even the busy event organizer, Stavros Kastrinakis, managed to set an impressive 151m No-Limits Greek national record himself.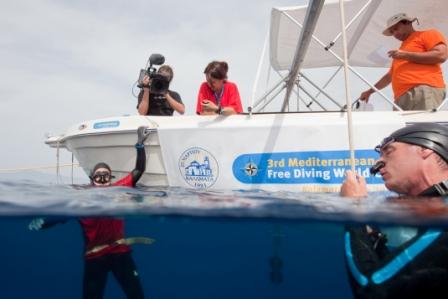 The complete list of records achieved thus far are as follows:
Record Discipline Athlete Performance
World Record Variable Ballast Natalia Molchanova (RUS) 125m
Continental Record Free Immersion William Winram (CAN) 97m
National Record No-Limits Stavros Kastrinakis (GRE) 151m
National Record No-Limits Ben Noble (AUS) 105m
National Record Variable Ballast Ben Noble (AUS) 100m
National Record Variable Ballast Anna Von Boetticher (GER) 100m
National Record Free Immersion Jure Daic (SLO) 86m
National Record Free Immersion Jakob Hansen (DEN) 75m
National Record Free Immersion Mark Harris (GBR) 70m
National Record Constant No Fins Dave Tranfeld (GBR) 52m
National Record Free Immersion Adel Abu Haliqa (UAE) 45m
The event's schedule includes more competition days spreading out to Sunday June 20th, so a lot more can be expected from the competing freedivers. See some of the current results from both the men and the women on this DeeperBlue forums thread.
Photo courtesy of Stavros Kastrinakis