The AIDA 2004 World Freediving Championships in Vancouver was being promoted as the most technologically diverse competitive freediving event ever to be held. From a safety team perspective this was going to be ground breaking, innovative and ambitious. State-of-the-art underwater communication systems were being made available to the team. Deep water lighting technology, using 200w HMI lights to illuminate the murky depths would be in place and we would be filming the athletes with high spec camera and video equipment. Technical divers had journeyed from across Canada, the States and the UK to provide support for this cosmopolitan contest. So with much anticipation, the safety team came together for what was to be an interesting few days. Would reality mimic the hype? Expectations were riding high.
Team Logistics
Team leader Bill Coltart had begun his selection process some months previously in February and March. Anticipated target depths were deep, with Venezuelan Carlos Coste expected, along with many of the worlds top freediving athletes. Initial thoughts were that Bill would need a large number of trimix and CCR trained support divers, capable of covering depths up to and in excess of 100 metres. To begin, he approached every major tech diving facility in the Pacific Northwest, with a request for suitable divers. A few came forward. Still short, and with time moving on, he tapped into the TDI, GUE and IANTD instructor databases. The response led to a 50% completion of the team. The remaining divers were recruited via personal invitation and from local volunteers, with priority given to those who were nitrox and trimix trained. Additional qualifications within the team included commercial divers, gas blenders, paramedics and search and recovery divers. Five members of the team had safety experience covering the Canadian National Freediving Championships and finally myself, who had supported the UK National Championships and the two Cyprus events.
Bill Coltart was not only heading up the safety team but had also undertaken the tasks of setting up the comms systems and, as he himself is a paramedic, the first-aid station. His boat 'Atta-tude' was to be used should there be an accident of any nature.
Five of the team would be diving CCR (4 Inspirations and a KISS) with the rest of us on open circuit. Divers would be buddied up (in compliance with AIDA regulations) with one diver on safety cover and the other on either filming duty or on comms. Divers would be positioned about every 10 metres through the water column starting from 20 metres.
The team would be diving from the barge where zones had been roped off here and there for the support divers, the judges, competitors, media and topside crew. Space, already at a premium, became prized territory once the numerous J's of oxygen and helium had been loaded along with a portable compressor and technical equipment for 21 divers. The first-aid base had also been assembled within our allocated section, enabling Bill to oversee any crucial emergencies.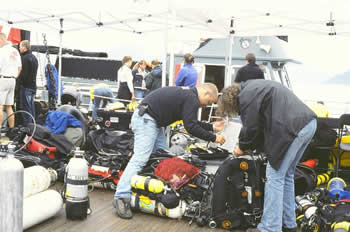 Gas was mixed on site with every blend of nitrox or trimix available. In contrast to other team diving safety projects, where bail out gas is usually staged along our support line, the preferred choice was for each diver to carry their own using side slings or twins. A decision based partly on local environmental conditions including low visibility, darkness at depth and the risk of strong currents. As a precaution we had 100% O2 and some bail out gas on the trapeze.
21st Century Innerspace
The innovative lighting technology had been sponsored by Nuytco Research, the president of which is the visionary Phil Nuytten, inventor of the Newtsuit. The Newtlight system we were using was equipped with standard 200W HMI osram hot-restrikable lamps. To minimize the weight of this equipment and to cope with versatile mounting arrangements, the ballast system had been integrated into the light heads. The lamps would light up the competition lines every 10 metres from 40m and deeper. Using the lights any shallower than 30 metres and the backscatter and natural ambient light rendered the intensity ineffectual.
The lamps in this instance had been mounted on cable. Retrospective thoughts were that it would have been better to have used a rigid, more supportive and secure mounting structure that would have allowed us to position a precise beam angle. As it happens, the lamps hung limply from the cable making it impossible to direct the beam with any accuracy. The visiting athletes did however appreciate the benefit of having light at depth. For many of the competitors this was their first experience freediving in cold, dark waters.
The communication systems provided by OTS (Ocean Technology Systems) included Aga masks with Buddy Phone two-way communications (of which we had 4), six Buddy Phone receiver units, a Water Way hydrophone and a surface unit for two-way communications and recording. The hydrophone proved exceptional, and could be heard well below 40 metres and through 5mm neoprene hoods. A definite hit! Divers with the Buddy Phone receiver units (mounted on their mask straps) could hear Bill's surface supplied instructions loud and clear. The Aga full face masks proved slightly more tricky with a couple of divers experiencing leaks. That aside, they were able to provide a fun and informative running commentary of events as they saw them to the spectators above.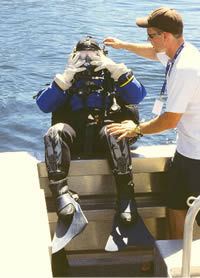 Amphibico Inc, one of the worlds leading manufacturers of underwater housing equipment, provided the in-water cameras and video housings. We had two camera units, one deep and one that we moved between mid-water and shallow depending on competitor depths. There was also a camera fixed on the bottom plates to assist with judging tag retrieval. Our footage was beamed direct to the topside 50" plasma screen, providing for the first time ever during competition, live images of deep-water freediving action. For the spectators on the barge this brought the sport to life.
Safety Systems
The two competition lines were counter-balance rigged, allowing much of the safety to be surface controlled. With this approach, a counter balance is used to recover the descent line and bottom plate. The ascending plate catches the distressed competitor by the lanyard, bringing them quickly to the surface (see diagram below). The line is fed along a boom and movement is controlled with a sailing clutch rather than by manual hauling.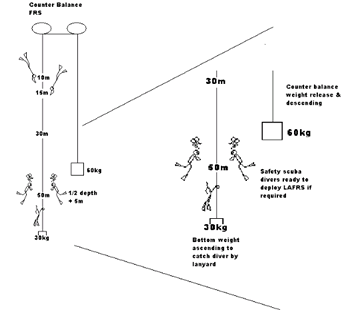 In addition, we had the Line Assisted Freediver Recovery System (LAFRS) of a lift bag with dedicated compressed air source. This differs from the popular FHOF (Freediver Hook On and Forget) devices used in Cyprus and the UK, in that in the event of a blackout, the lift bag is clipped directly to the competition line, below the athlete's lanyard as opposed to a wrist strap worn by the athlete.
Becoming a member of a scuba safety team is in itself an interesting paradox. The depths involved are a serious undertaking, and for a technical diver, there is much that can go wrong. It is critical therefore that there should be a support system, safety protocol, detailed dive planning and an emergency assistance plan in place for the benefit of the team. At the end of the day, these guys are putting their lives on the line. The team should be briefed as a unit (well in advance) about these procedures, so that each member knows how to respond should there be an incident involving one of our own. Undoubtedly such information was available. However, with so much emphasis placed on the technological aspect of the event, such briefings were neglected.
In regard to dive planning, the team only received competitor depth subscriptions a couple of hours before championship kick off, on the first day of constant weight diving. This left an almost impossibly short time to allocate tasks, plan gas requirements and calculate decompression obligations. In most other competitive events, this information has been available to the team a minimum of 24 hrs beforehand. Much respect should go to Bill Coltart for his control and calm management of the situation. He was walking a time tightrope. Single-handedly dive marshalling, supervising communications, over-seeing first aid and holding the safety team together.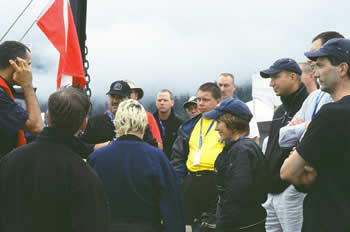 Hazardous Challenges
Despite the numerous advantages of cutting edge technology, the logistics of diving in such an equipment intensive environment did throw up certain challenges. Included in these were some unexpected hazards. The high intensity lights for example, generated such tremendous heat that we had to ensure a minimum 2m safe distance to protect our drysuits, equipment and cameras from innerspace meltdown.
The lighting cables and camera umbilicals were routed along our central support line. Those of us filming had a tough time capturing decent footage, exploiting the light thrown out by the HMI system while simultaneously ensuring we weren't fried in the process. As we ascended to shallower depths, a spaghetti-like mass of excess cable and umbilical created not only an entanglement risk but, from time to time, frustratingly obscured our visual of the athletes.
Keeping the championship lines free of Lion's Mane jellyfish provided a unique take on aquatic entertainment, allowing some of us to indulge in an imaginary game of 'do or die'. These particular mothers, with bells measuring well over half a metre across, trailed two metre long tentacles loaded with toxic nematocysts. There were a couple of close calls when a small army of jelly invaders drifted menacingly close, taunting us just when the hydrophone announced 'official top'.
Canadian waters are renowned for their fast drifts, boasting some of the fiercest currents in the world. On the second training day the weather closed in. Heavy rain and blustery winds hampered preparations on the barge, delaying progress just long enough for us to miss slack water. By the time we were ready to test the lighting system, 'white light' the video equipment and position the deco station, a powerful surface current was making its presence felt. This made heavy work of the remaining tasks and dishearteningly, after hauling up the many metres of lighting cable we discovered one of the HMI lights to be missing. An expensive blow as they weigh in at a few thousand dollars each.
The Wrap
Much credit must go to the support team for taking on the challenges involved with this championship's technological diversities, the inevitable associated complications and task loading. The skills and professionalism within the team ensured that we were able to deliver an incident free performance, with relatively little preliminary training in the 21st C gadgetry at our disposal. All the divers involved thoroughly enjoyed the experience and by the end of the competition we were just beginning to gel as a unit.
Without doubt the technology employed had much to recommend and endorse it. From a safety diver perspective, it was fabulous to hear the top side announcements, allowing us the benefit of knowing exactly what was happening; when to expect the next competitor, instant feedback on the quality of our video footage and the ability to communicate should a problem arise. Of the difficulties that emerged, none were insurmountable but perhaps most could have been avoided or pre-empted with the luxury of a couple of extra days training.
Most of all, the combination of direct comms and live link footage added a visual and verbal element of safety to the counter-weight and LAFRS systems utilised. This has to be applauded. Expense aside, adopting this modern day science for future freediving events would prove progressive for the safety of the sport.
The Support Team
(in alphabetic order)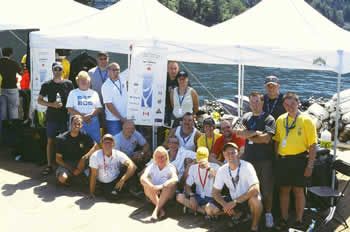 Shane Brandon
Dennis Chow
Bill Coltart — Team Leader
John Creck
Rob de Haas (CCR)
Oliver Golbeck
Stewart Gordon (CCR)
Laura Harris
David Lei
Kelvin Magee (CCR)
Lenny Marriott
Tina Nelson
Ken Poirier
Shanyn Poirier
Glen Polson (CCR)
Rob Preece
Jody Ritchie
Derek Sather (CCR)
Jaci Spooner
Erika Stephens
Mark Wenn
Get More Articles Like This!
Subscribe to our weekly newsletter and get more interesting stuff like this direct to your email inbox every Friday.