Freediving legends and rivals Umberto Pelizzari and Pipin Ferreras have not seen each other since 1992 when Pelizzari claimed a 70m Constant Weight (CWT) record off Ferreras off the island of Ustica.
Today Pelizzari has announced via his Facebook page that he and Ferreras will both be attending the EUDI Diving Show in Bologna, Italy in March 2017.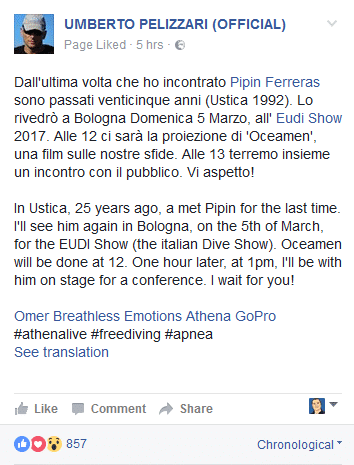 Ferreras and Pelizzari were famous in the 1990's for their rivalry and numerous attempts to take Freediving world records off each other.  The rivalry was documented in the IMAX movie Ocean Men: Extreme Dive, and TV docudrama of the same name, filmed and directed by renowned underwater photographer Bob Talbot.  The film will be shown at the EUDI Show followed by a Q&A with both divers.
You can find out more about the EUDI Show on their website.
Get More Articles Like This!
Subscribe to our weekly newsletter and get more interesting stuff like this direct to your email inbox every Friday.