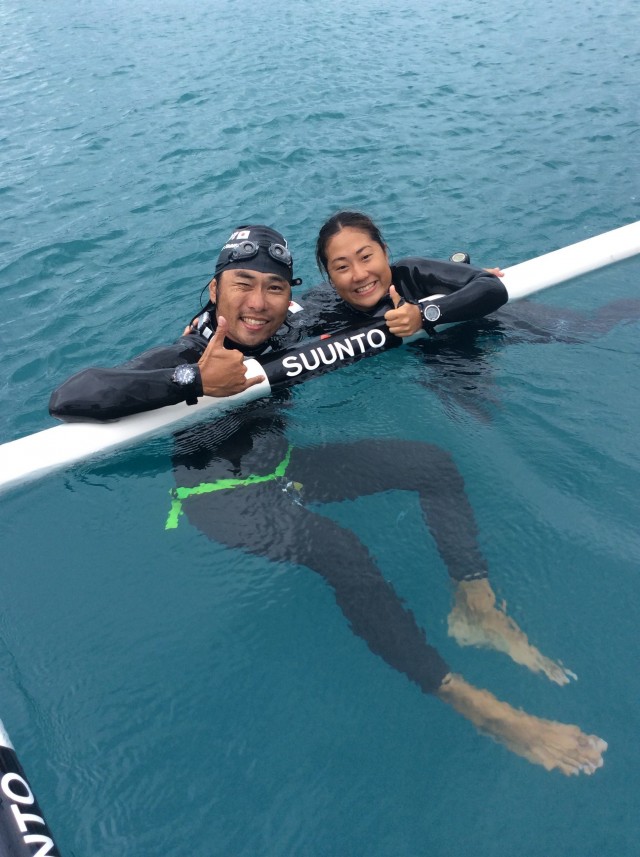 Belying the caliber of participants at William Trubridge's annual freediving competition, an astonishing count of ten total national records have been broken at the close of the second day of Vertical Blue 2014. Highlights of a fantastic day one can be seen in the video below. Day two proved to be a challenge for all the athletes, but most of the women seemed to rise to the myriad impediments that mother nature threw into Deans Blue Hole (wind, current, cold temperatures, poor visibility) – first time attendee Sayuri Kinoshita may be the sleeper of the competition, pocketing a second white card today for a free immersion dive to 66m, on top of her new Japanese national record dive to 53m CNF from the first day. Marianna Krupnitskaya of Russia, and Tomoka Fukuda & Hanako Hirose of Japan all delivered clean constant weight dives respectively 82m, 81m, and 77m. Unfortunately a few of the men did not fare as well, and a couple of surprising red card performances surfaced — chief among these surprises were blackouts from event organizer himself William Trubridge and Great Britain's national record holder, Michael Board. Despite these unexpected blips, two other men powered through to realize two of the aforementioned 10 national records. Ryuzo Shinomiya the "water dragon" of Japan successfully completed a constant no-fins dive to 60 meters in two minutes and :47 seconds, and Alejandro Lemus of Mexico pushed the free immersion title to 86m with a dive time of three minutes and :46 seconds. The exciting competition continues Saturday with an average depth attempt of 74 meters; stay tuned for more #VB2014 news from Long Island.
(photos of Ryuzo Shinomiya and Alejandro Lemus courtesy of Rebecca Woodmore)
Get More Articles Like This!
Subscribe to our weekly newsletter and get more interesting stuff like this direct to your email inbox every Friday.