The "Flying Fish" of Austria secured an astounding 29th World Record today at the Suunto Dive-Off competition in the Bahamas. Herbert Nitsch was as cool as a cucumber as he pulled down the line at Dean's Blue Hole and sank to 114 meters to capture the world record in the discipline of Free Immersion or FIM. This 29th WR-notch in Herbert's belt came during the 2010 Vertical Blue competition which is where an assortment of the best freedivers in the world compete to stretch the limits of what's possible by humans in the underwater realm.
Herbert Nitsch completed his free immersion dive in 4 minutes and 11 seconds. He surpasses his own previous record in FIM of 112 meters – which he also accomplished at Dean's Blue Hole in 2009.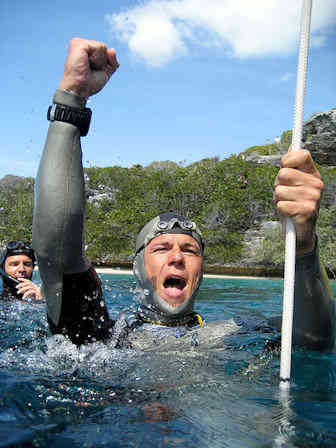 Nitsch is a contender in all of the disciplines and is expected to do very well in Constant Weight. Herbert's top competition in CWT, Martin Stepanek, is not actively competing at this year's Vertical Blue event, but will be on-site to coach champion freediver Niki Roderick.