Long Island, Bahamas. United States Apnea Association (USAA) reports that Robert King established a new United States Men's Freediving Record, diving with his mono fin to a depth of 90 meters (293 feet) CWT. His record-setting performance took place during this year's Vertical Blue Suunto Dive-Off, which occurs annually in Deans Blue Hole on Long Island in the Bahamas. Rob has now broken his own record of 87 meters (284 feet) in CWT, which he also just accomplished two days ago.

The area of freediving King achieved a record in is known as the discipline of Constant Weight (CWT). The two other self-powered disciplines are Free Immersion and Constant Weight No Fins. Rob also set a new US National Record in the Free Immersion discipline at Vertical Blue 2010 and he is the current US Record holder in Constant No Fins as well.

Rob's dive took two minutes and fifty-eight seconds with the depth equivalent to swimming the distance of a ninety-story building and back. Most people can gain an idea of what this achievement is like by going outside and holding their breath while attempting to sprint three city blocks and back in less than three minutes. Rob's immediate response to receiving a white card validating his performance was, "This is cool!"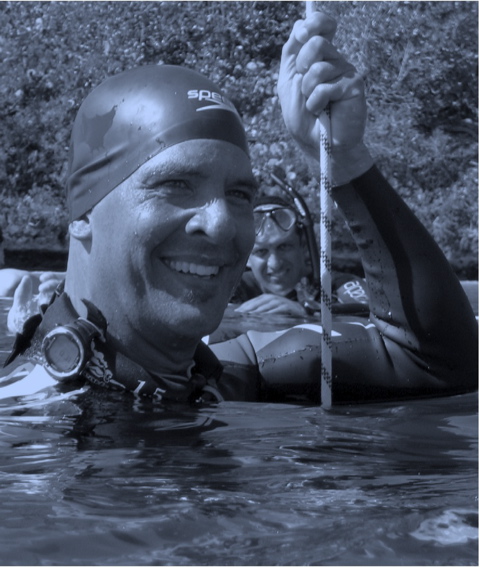 Rob later stated, "This dive was special: 90 meters is a depth I hadn't expected to achieve. I'd like to dedicate it to my parents: Joanne, who's been unwavering in her support (even though I suspect my diving makes her worry), and Fred, who was an avid free diver and spear fisherman and who would have loved to dive at Dean's Blue hole and to see the Vertical Blue competition."
Rob and a fellow competitor at Deans Blue Hole, Canadian freediver Eric Fattah, are both now on par with each other at 90m CWT.
Vertical Blue is annual competition hosted by world record athlete William Trubridge. William is also an athlete in this competition. For updates checkout, http://events.verticalblue.net/
The USAA is a nonprofit association founded on the democratic representation of freediving within the United States and internationally. Founded in 2003, the USAA consists of an active membership dedicated to furthering freediving in the United States and abroad. For more information about the USAA, the U.S. National Freediving Team, and membership please visit http://www.usfreediving.org.