Japanese freediver Ryuzo Shinomiya has secured his place among the giants at the Vertical Blue 2010 freediving competition. Known as the "Okinawa Dragon" (because he is the first man from Asia to reach the 100 meter depth mark,) Ryuzo now has a new Japanaese national record to boast.
Today Ryuzo emerged triumphantly from Deans Blue Hole with a tag in his hand and a free immersion dive to 102 meters under his belt. Ryuzo's FIM dive took four minutes and 17 seconds.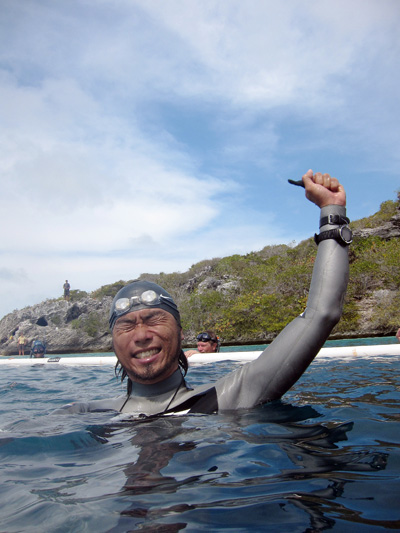 With a static breathhold of 7:25 and a constant weight depth of 107 meters, more great performances from Shinomiya are anticipated.
Photo courtesy of Grant Graves.