Kalamata, Greece – Russian freediving phenom Natalia Molchanova has successfully ousted Tanya Streeter in the disicpline of Variable Weight.
On June 16, 2010, Natalia rode a weighted sled down to 125 meters, she then swam all the way back up to the surface and executed a clean surface protocol to garner yet another world record. Natalia's roundtrip dive took 3 minutes and :38 seconds — her descent took one minute and :29 seconds, and her self-powered return ascent took two minutes and nine seconds.
The previous record holder for women in this discipline was Tanya Streeter, who achieved a depth of 122m in Variable Weight back on the 19th of July in 2003 at Turks and Caicos. Natalia improves upon that depth dive by three meters with her new record-setting dive to 125 meters at the 3rd Mediterranean World Cup. This marks the second of Streeter's long-standing records to fall to a new female competitor in 2010 so far. Natalia is also expected to perform well in other freediving disciplines, both in Kalamata and at the upcoming AIDA World Championships in Okinawa.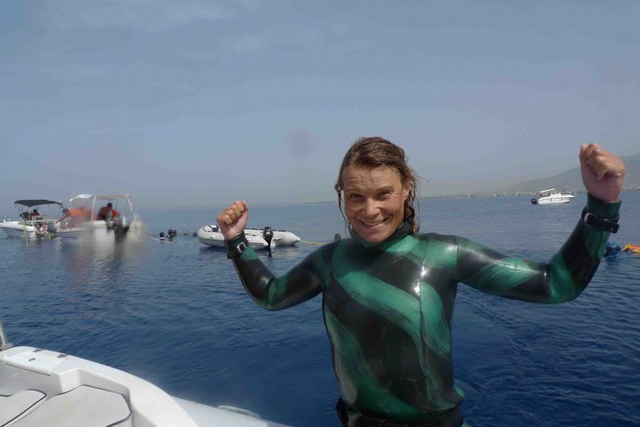 Photo courtesy of Natalia Molchanova