This was the second year of the Great Northern pool competition in the UK. It was extended to two days this year to accommodate a DNF (no-fins) competition this year. It increased considerably in size due to the popularity of last years event. Only a handful of the UK's top divers were unable to attend in some capacity, all the big hitters and some tremendous new talent were there.
On Saturday the 12th March I was proud to see John Moorcroft top the bill with a tremendous 130m DNF swim. He has a UK record in him for sure still after over a decade on the circuit. He did it for charity too so please follow this link http://www.justgiving.com/John-Moorcroft/. There were also good white card performances for second and third places from Dave King (last years overall winner) and Chris Laycock (last years best newbie.)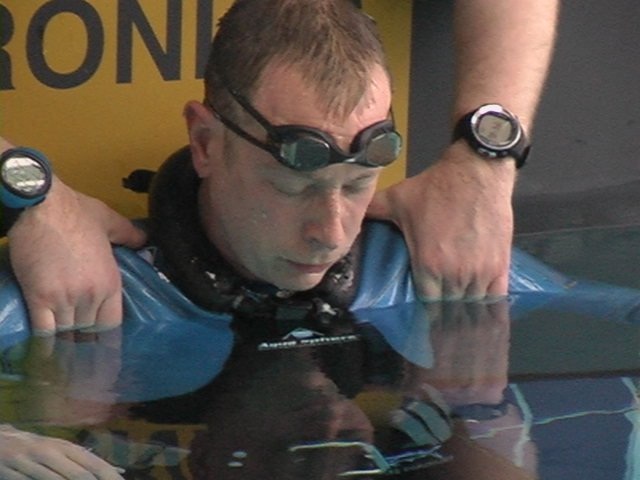 The ladies were led by a new UK National DNF record for Liv Philip using all her experience to pull out a white card, she has only had white cards in my competitions so i am thrilled for her achievement. Kattie Lussier and Meike Holzmann were DNF twins both finishing at the same point, well done.
On Sunday the 13th March which was UK Nationals day, the day almost all belonged to the mighty Dave King with a massive 226m Dynamic swim. Top dive mate, my respect! I didn't quite get to get over and see him surface as his top was at the same time as the mermaid of the pool Mandy Buckley. She has fought back this year from a very serious illness and she got in and equalled her personal best from last year and I needed to be there to see it and give her support. Apneists UK's Mandy Buckley was fortunate enough to collect a new Orca Breath wetsuit from Orca, our generous sponsor. She is going to do a swim for charity in June and you can read more about her and sponsor a good charity here , a truly amazing story!
http://uk.virginmoneygiving.com/fundraiser-web/fundraiser/showFundraiserProfilePage.action?userUrl=mandybuckley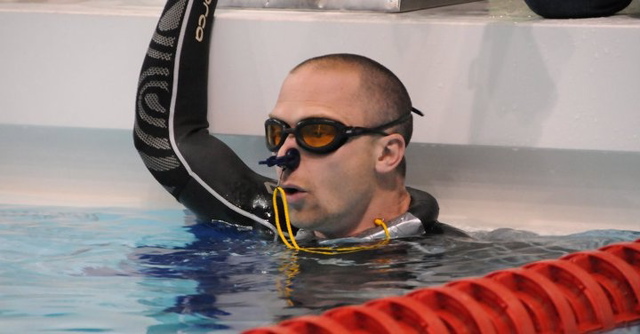 In the main event Apneists UK's Chris Crawshaw decided to go for solid white cards and did a great and very easy 150m swim and a 5'30 static for a very respectable 2nd place in the UK Nationals in his first competition, followed behind closely by Tim Money in third place. Liv Philip won the title for the second year in a row, George Miller again cemented her place as one of the all time best female UK divers with a respectable 2nd place. Kattie Lussier skidded into third place overall with two exciting dives and Apneists UK's very own Nikki Bream took the 3rd place in the UK Nationals. Her shocked look when she heard at the prize giving, and her joy when she realised she was on the podium was one of my favourite moments.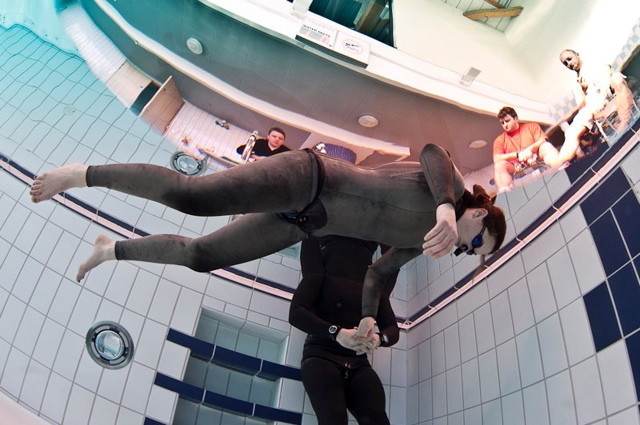 The event ran smoothly, because of the hard work of many. I need to say a massive thanks to all the helpers. I counted over 40 individuals helping over the two days, and they were all essential. Even one of the jobs not being done would have made it extremely difficult if not impossible to run safely and without hiccups. I want to point out at this time they were all volunteers, using their different skills and expertise to help the athletes and I appreciate their help! I have had three days to reflect and it makes me prouder every day to see how our group has come together for this. People were travelling from as far as London, Scotland, Yorkshire, Bristol and Wales. Oh, and the RED SEA!! Thank you!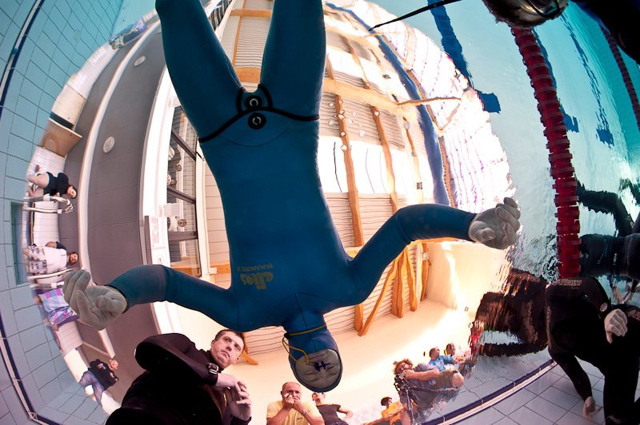 George Miller, current UK static record holder said "This year went really well! The event was at the Liverpool aquatics centre, a state of the art facility. I must say my jaw hit the ground when a staff member of the centre asked one of the organisers how deep he wanted the pool for the static competition! I didn't know that pools could do that! In all seriousness, I'm sure I'm not the only one who felt privileged to be able to compete at such a top class facility.
The seamless organisation and brilliant atmosphere saw many freedivers, both seasoned and beginner, from several different clubs across the country come together to make a really brilliant day. I think it was reflected in the results. We saw a fantastic national record from Liv Philip with dynamic no fins of 111m and a massive dynamic from Dave King of 226m. The most inspiring swim of the day was Mandy Buckley, who managed a formidable 150m swim.
I would like to thank the organisers, Steve Millard and his crew from www.freedivers.co.uk , the Liverpool aquatics centre for having us and all those who took part. I'm hoping that next years event will see some international faces."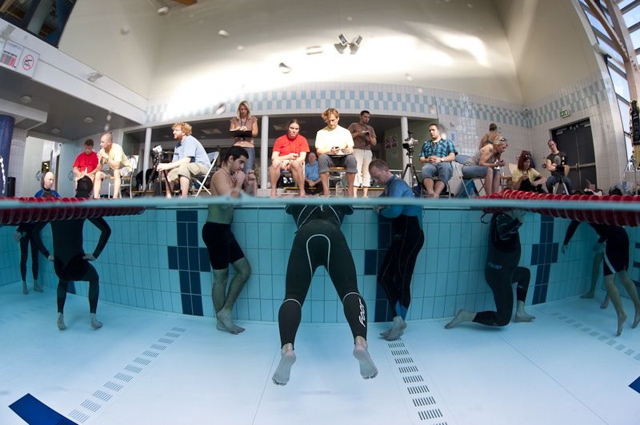 Here is a selection of short videos including the two National records:
http://www.youtube.com/watch?v=oSNSIGxtQwA
http://www.youtube.com/user/seanpetersfoto#p/a/u/1/zS9rmfVYXOs
http://www.youtube.com/user/seanpetersfoto#p/a/u/2/Ue7jbbJ3snw
Thank you to the world class pool, the relaxed & super helpful staff and our generous sponsors:
Lifestyles Leisure
Sean Peters www.sppv.co.uk
George Stoyle www.earthinfocus.com
www.orca.com
Urban Gastropubs
Electrical lighting superstore
No-Tanx
Salt Free divers
www.freedivers.co.uk/team/stevemillard.asp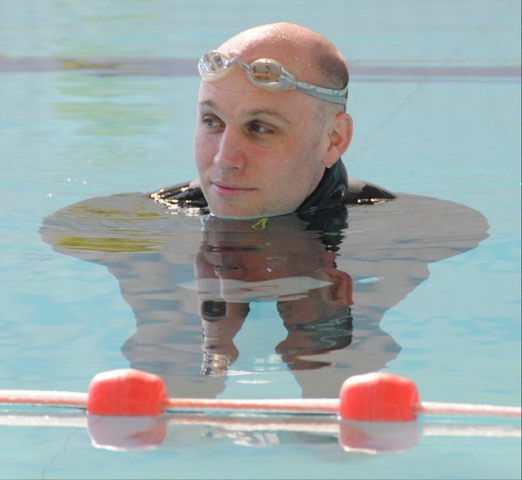 Photos courtesy of George Stoyle of EarthInFocus.com