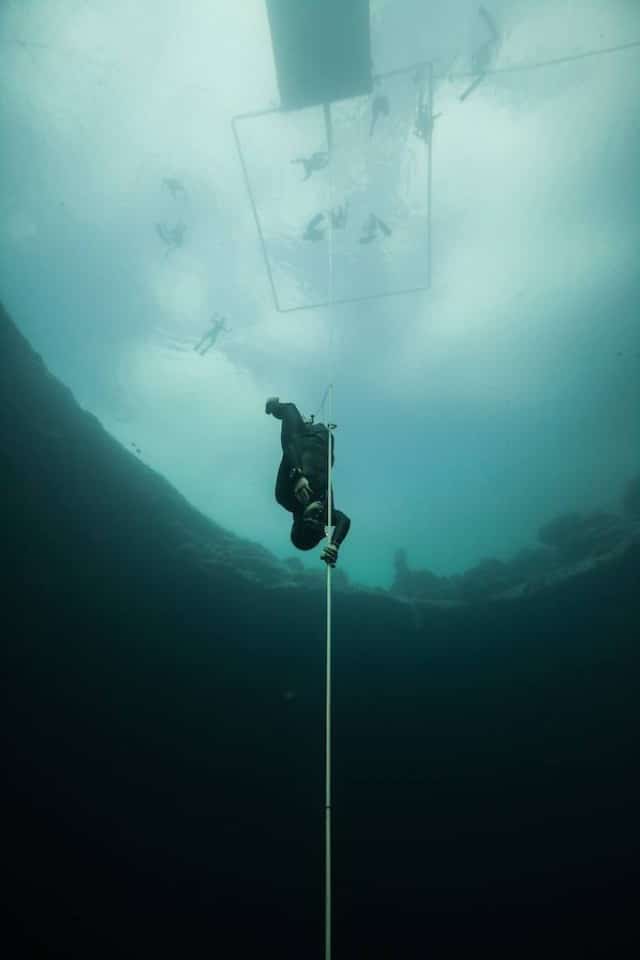 Today, on the first day of competition, Sofia Gomez Uribe of Colombia decided to go for it. In her first appearance at the "Wimbledon of Freediving" Sofia, the youngest competitor at Suunto Vertical Blue 2015, completed a free immersion (FIM) dive to 67 meters in two minutes and :41 seconds to secure herself a new national record. "The dive felt super nice, I thought I was going to be super nervous, it was the first day and that is always the hardest day to dive, but when I got to the main line I was relaxed.  It was a great dive for me; when I heard my last alarm at 64 meters I was surprised it was that fast — when I grabbed the tag I knew I had it in the bag, coming up I was smiling and feeling very happy!" beamed  an exuberant Sofia (who turned 23 less than a fortnight ago).
Since Sofia is a relative newcomer to the competitive circuit we decided to do a virtual sit-down and ask her a few questions, to learn more about this aspiring freediver…
DeeperBlue.com:  What do you love most about freediving?
Gomez Uribe: "I love to prove to myself that I CAN do some things,  like sometimes you let your head tell you what you are capable of and don't let your body really do the job, I think the best thing about this sport is knowing that you have control over your mind and that you can conquer everything thing you set as a goal."
DB: What goals do you have for #VB2015?
GU: "I want to set other records in  the competition in every discipline."
DB: What is your favorite discipline?
GU: "That's a hard question to answer,  I feel I'm quite new in this and I still don't have a  favorite but since I have to choose I'll say constant weight."
DB: What do you think about Deans Blue Hole?
GU: "I like everything about the blue hole, it's located in the perfect place, the conditions are perfect, you don't have to go far from shore or in a boat, there is no current, the weather is perfect,  the temperature is very good… I like everything!"
DB: What is your training regimen?
GU: "I live very far from the ocean but I train everyday in the pool apnea training combined with fin-swimming. Plus I started training Crossfit in February, and I do it 3 days a week, I think Crossfit has played a very important part in my preparation because I feel very strong and that makes me feel relaxed."

DB: When you are training what food do you eat? Or what foods do you not eat?
GU: "When I train I try to balance my food as much as possible —  I eat a good amount of protein everyday, a lot of vegetables and fruits, I try to stay away from junk food but that's not always possible (hahaha). I think I allow myself a break every now and then because I know I am training hard enough 🙂 "
DB: Who is your favorite freediver to watch?
GU: "Well after today I think my favorite is Sayuri! (Sayuri Kinoshita the Japanese freediver) she did 60 meters no fins, which I think is a very very good dive and she looked so fresh when she came to the surface, she made it look easy!"
DB: Who has been helpful to you? Who would you like to thank?
GU: "So many people, my parents for not freaking out about the sport, my sponsor Indeportes Antioquia for giving me the resources to come to the competition,  but most importantly to my boyfriend and coach Johnny (Jonathan Sunnex),  he has been helping me in this whole process of training and if it wasn't for him I'd probably not be doing deeper dives each and every time — he is the best person I could have next to me."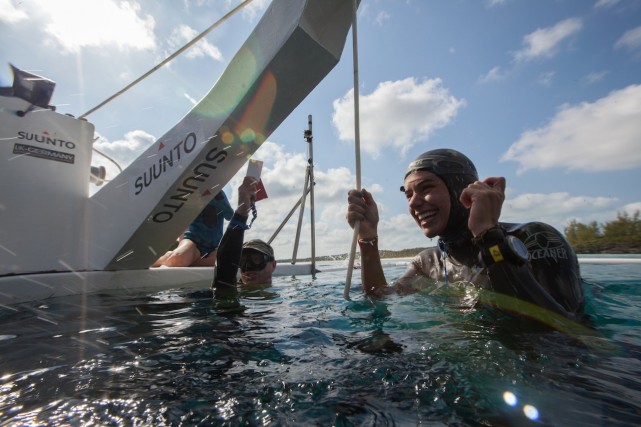 (photo © Daan Verhoeven)
Get More Articles Like This!
Subscribe to our weekly newsletter and get more interesting stuff like this direct to your email inbox every Friday.