Today at 11:50am in Dean's Blue Hole, Long Island, Bahamas, with only his two bare feet and one breath of air in his lungs, New Zealander William Trubridge became the first man to reach 300 feet freediving in the discipline of "constant weight no fins" or CNF. Swimming a form of adapted breaststroke he descended next to a vertical line where he collected a tag from a bottom plate as proof of depth at 92 meters (300 ft), before returning to the surface using only his hands and feet for propulsion. Trubridge's CNF dive took a total time of three minutes and forty five seconds.
Constant Weight No Fins is considered the purest measure of human aquatic potential, and athletically the most demanding of the freediving disciplines. Trubridge's landmark dive took place during the Suunto Dive-Off competition which he also organizes and sees the best freedivers in the world compete to extend the limits in this extreme sporting discipline. Dean's Blue Hole is the deepest blue hole in the world, at 203 meters (660 feet).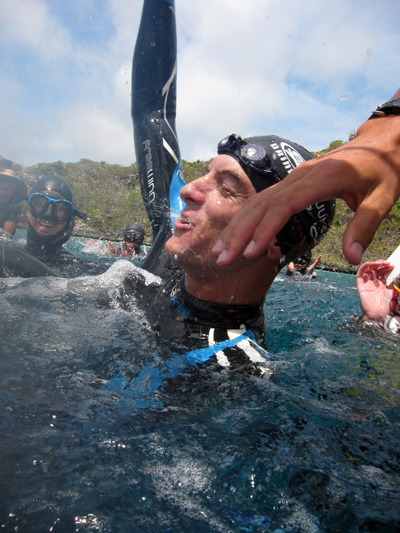 The greatest danger for Trubridge during the dive was the risk of running out of oxygen and blacking out underwater. Safety divers were on hand to assist him in the case of emergency, and a counterweight system could be deployed to bring him back to the surface if it happened very deep. His newly wed wife, Brittany, waited on the surface during the dive, counting out the seconds until he returned to breath again.
Trubridge uses a silicon coated wetsuit specifically designed by Orca, as well as swimming goggles that have been adapted with corrective lenses mounted on the inside so that they can be filled with water and enable vision underwater. The record depth was officially verified by a Suunto D4 depth gauge that Trubridge wore on his wrist, as well as underwater cameras that were viewed by judges from AIDA – the official organization for freediving record homologation.
Brittany and William Trubridge spend seven months of the year training in the Bahamas, and the rest of the time traveling through Europe teaching freediving and yoga courses. They were the hosts of the recent AIDA World Championships, where William won gold and bronze in the two disciplines with and without fins.
Follow William Trubridge's live reports on the rest of the competition on Twitter:
Photo Courtesy of Grant Graves