Nestled in a sunny corner of the Pacific lies Honaunau Bay, just off the Kona coast on the big isle of Hawaii. Green sea turtles, frolicking dolphins and humpback whales all migrate through this idyllic bay. And so do freedivers. Champion freediver Annabel Edwards is host to Freedive Paradise, an annual freediving competition that brings athletes from all across the globe.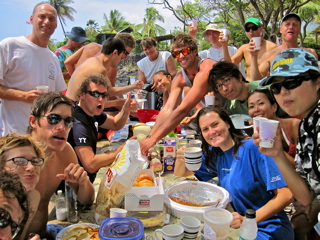 The competition is under way right now and some terrific performances are being reported. Making an inaugural appearance at Freedive Paradise and stealing the show is Jasmine Bastow of Australia.
Jasmine has already set three new national records in free immersion, constant no fins, and constant weight respectively. On April 22, 2010 Jasmine set two of her three new Australian records, with a successful 40m free immersion dive in one minute and 38 seconds, and a 30m CNF roundtrip dive taking one minute and 24 seconds.
Then on April 24, 2010 Jasmine set a new Australian record in constant weight with a dive to 47m which she completed in one minute and 41 seconds.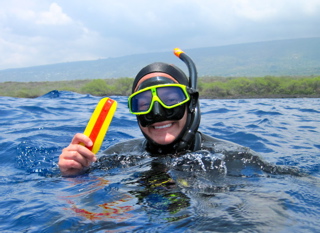 The entire competition will finish today, so check out Freedive Paradise to see the final results, overall winners and more great photos of a freediving comp Hawaiian style.