Canadian Freediver Eric Fattah took the the Canadian Constant Weight record to a new depth of 90 meters April 22, 2010 at the Vertical Blue Competition held in Long Island, Bahamas.
Circumstances had it that he actually forgot his neck weight prior to the dive and only realized it in the final countdown. Eric went on to do the dive anyway and came back with the tag he grabbed at the bottom plate. The total dive time was 2 minutes and 55 seconds.
Eric Fattah broke fellow competitor William Winram's record of 84 meters which William had set at the Team World Freediving Championships in Hurghada in 2006. The previous record was 82 meters, which, incidentally, was also Eric's and a World Record at the time of the attempt, in 2001. Eric Fattah and neighboring freediver, American Rob King, are now on par with each other at 90m CWT.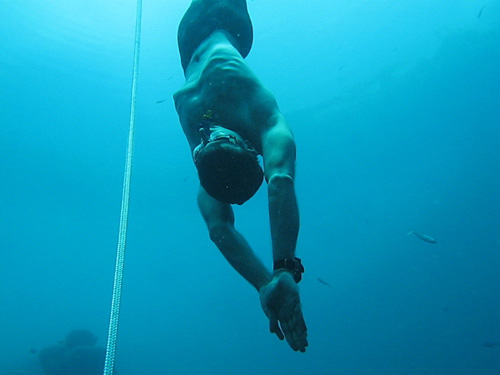 Photo Courtesy of Peter Scott