Deans Blue Hole is where William Trubridge continues to take care of business. Today he showed his quiet yet relentless strength and sheer determination by setting a new world record dive to 95 meters in the discipline that he has now defined, constant no fins. Will's dive to 95 meters increases his record depth from just a few days ago at 92 meters. Surfacing once again as a champion, Trubridge's new world-record dive to 95 meters took three minutes and 56 seconds.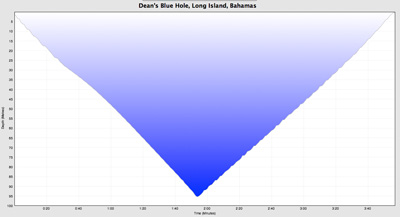 Ryuzo Shinomiya and newcomer Alfredo Romo also continue to perform well at Deans Blue Hole — each garnering a new national record for themselves today. Ryuzo completed a constant weight dive to 108 meters for the new Japanese record and Alfredo pulled up and down in free immersion to 58 meters for a new Mexican best.
Follow William on Twitter for all of the latest breaking news from the Vertical Blue 2010 Suunto Dive-Off.