Victoria Gil, Science Reporter for the BBC, reports that biologists have cast doubt on the long-held theory that fish gills evolved primarily for the purpose of breathing.
Researchers studied the development of gills in rainbow trout larvae. Their experiment suggests that it is likely that fish evolved gills for the primary purpose of regulating the chemicals in their bodies.
The team reports in the Royal Society journal Proceedings B that this developmental study gives an insight into the evolution of fish gills.
Clarice Fu, a zoologist from the University of British Columbia in Canada, led the study.
She and her colleagues found, as the larvae matured, their gills developed the ability to regulate the chemicals in their blood earlier than they began to take up oxygen.
To discover this, the team measured the uptake of ions, which are charged chemical particles, such as sodium.These ions are necessary for the body's cells to function, but they become toxic if their levels in the blood become too high. Ms Fu explained that fish take up these ions from the surrounding water, to "maintain this delicate ion balance in their blood".
"In freshwater fish, like rainbow trout, they tend to lose ions from their blood to the water, because the ion concentration in blood is greater than that of freshwater," she said.
Read more of Victoria's article here.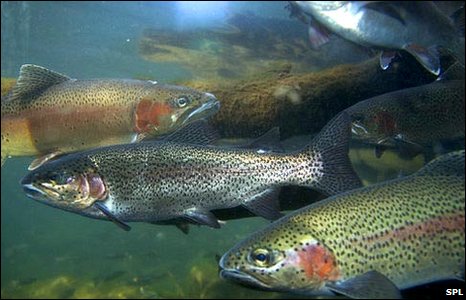 Freshwater fish take up chemicals from the surrounding water through their gills