As first reported by Jo Mattock for Dive Magazine UK, a new British record for free immersion has been set by a relative newcomer to the sport of freediving, Mike Board. Although Mike runs a freediving center on the island of Lombok in Indonesia, he set the new British record at a competition in Dahab, Egypt. Mike Board's record-setting dive to 68 meters happened at an event organized by a fellow Brit — Sara Campbell — the mighty yoga instructor from South London who famously achieved 96 meters in constant weight at last year's Vertical Blue.
Mike's free immersion to 68 meters took 2 minutes and 39 seconds to complete and he used neither fins nor a sled to achieve this depth.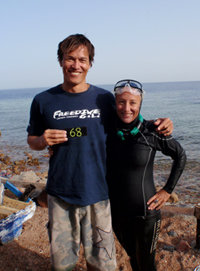 DeeperBlue staff sends Mike our heartiest congratulations.