LW: Hey, Ric! So I'm curious to know….what initially turned you on to the underwater world?
RF: I grew up in Texas on the Gulf Coast. My parents have had a beach house in Surfside since before I was born. My first memories are of being at the beach playing in the ocean and going shelling with my family. As a kid I was always getting pinched by crabs or stung by Portuguese Man o' War. We built sand castles and Dolphins often played in the surf. I think wanting to see what was below the brown, silty water sparked the initial interest. Since there are two major rivers emptying into the ocean there, it makes the visibility almost zero. I've gone back there as an adult and done some freediving off the coast and was surprised to see the grassy bottom out beyond the third sand bar. Sargassum weed used to be this ocean weed to me, now it's a treasure trove to find small creatures and animals.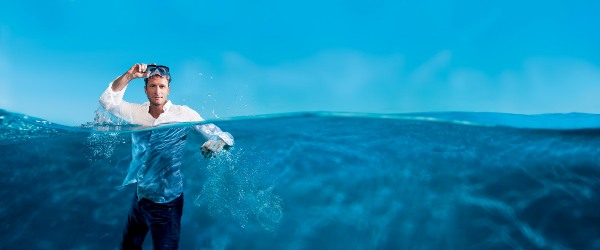 Ric photographslegendary freediver Umberto Pelizzari for Bio Presto, Italy.
LW: Was there an image or photograph that inspired you to do what you do when you were younger?
RF: My parents owned a clothing retail store and they always had Vogue, Bazaar or Elle magazines lying around. I would look at every image. At the time, I had no idea who the photographers were; but now I would say Richard Avedon and Irving Penn were influences on me at a young age. At the same time, I wouldn't miss a single Jacques-Yves Cousteau episode on TV. Later on, I started skateboarding and Thrasher and Transworld Skateboarding Magazines had the biggest effect on me wanting to be a photographer. Seeing Grant Brittain's photos as a kid pushed me a lot. I still think his photos are timeless. Skateboarding and photography really go hand in hand. My friends and I always took pictures of each other doing new moves, not just to remember the different skate spots we visited and sessions we had, but the random experiences that came up.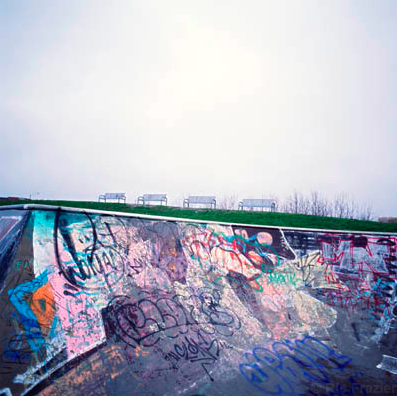 Influences from the skateboarding world drew Ric to
swimming pools for different reasons in his youth…
LW: Tell me about how you began scuba diving in the first place.
RF: Oh, gosh. It took me so long….a period of many years really, to actually get certified! I think I paid for it three separate times. The first time, at the age of 18, a knee injury from skateboarding squashed that attempt. Five years later, I tried a second time in Austin Texas, but I was hit by a boat on Lake Travis while riding a Sea-doo. I was lucky, and only had a hairline fracture on my leg. The third try finally worked, which was at the Anacapa Dive Center in Santa Barbara in 1994, when I moved to California for school.

LW: What is your favorite location you've ever photographed or filmed in….and why?
RF: I was on the vessel Just Love with a Brooks Institute photographic expedition from Santa Barbara, CA down Baja to The Revillagigedo Islands. The Islands felt like some other world; San Benedicto with its giant crevasses of ash. The Boiler was my favorite dive site there. On top there is a ton of coral and sea life. Seriously, every dive there were somewhere between one and ten manta rays! Less than 30 miles away is the lush island of Socorro. I had three Wahoo fish circle me on one dive that were 3 to 6 feet long. The place is unreal. The Socorro Aquarium was great. There was this massive tidepool that we went freediving in. There were so many varieties of fish and coral there to see. This was my first big photographic expedition as a professional after I graduated. This was it!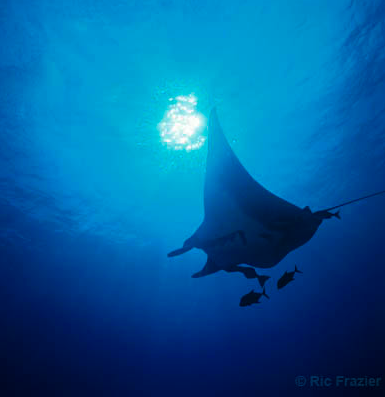 A Manta Ray swoops overhead off the waters of Socorro
Honestly, every time I get in the water it's an amazing location whether it's a swimming pool, Soccoro, Bonaire or anywhere else. I always look for the elements that I think make up a good photograph in that location. I can always find the uniqueness of a location and gravitate toward different elements and textures. Diving in the ocean, some of my favorite shots don't have anything but rippling sand or one soft coral. As far as the actual locations go….anywhere in the water is really my favorite location. I think water has such a diverse quality because it's always changing. The light, the color, sparks something inside me.

LW: You seem to focus on the underwater world, but definitely have some beautiful topside photography. Do you prefer underwater shooting to topside work? Why?
RF: I wouldn't say I prefer one or the other. My passion is photography, and I love all aspects of it. What I love is that moment of capturing a feeling or moment in time; whether it be on a set underwater, or photographing my three kids running and playing in the forest near our house. I carry my camera with me almost always, so I don't miss those moments. This also helps me explore ideas for shooting underwater and honing my craft without the expense of a large production. I believe being a well-rounded photographer is important. If I only shot underwater, my work would be only inward looking and would keep looking the same. I would never grow as an artist.
LW: Where did you learn your shooting skills and who were / are your biggest influences in your style?
RF: I was formally trained at Brooks Institute of Photography in Santa Barbara, were I received a BS in Industrial/Scientific photography. There my main influences were Ralph Clenveger, Lynn Jones and Ernie Brooks Jr. Grant Brittian, my favorite skateboarding photographer, had a huge effect on me becoming a professional photographer as well.
LW: If you could be transported anywhere in the world for filming or photographing that you've never been before, where would it be?
RF: Being so close to Houston and NASA as a kid I have a slight obsession with space and the history of space travel. The NASA Neutral buoyancy Lab or the Yuri Gagarin Cosmonaut Training Center would be at the top on my list of places to dive and Film for advertising or editorial. I have a few concepts I would love to do at either place.
LW: Recount your most memorable dive…
RF: In 2008, a dive in Lake Zürich was one of the more memorable dives I'd had in a while. The viz was only about 2 meters, but I was shooting the Rinspeed sQuba for Car Magazine. I couldn't even see the car until it was almost too late to shoot. I could hear it getting louder but couldn't tell the direction it was coming from due to the way sound travels underwater. I feel I captured the stealth-like nature of the sQuba in my photos, despite the challenges of the situation.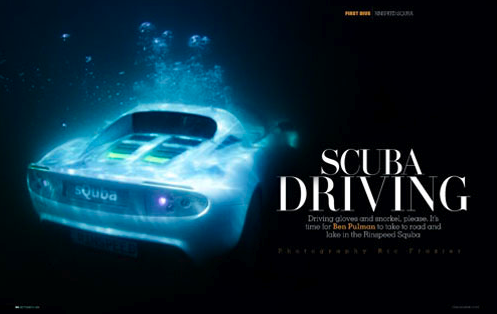 Photographing the Rinspeed sQuba for Car Magazine
LW: Do you have a favorite format or medium to shoot with?

RF: To be honest, the equipment isn't as important as getting the actual shot. I used to be very into the latest technology, but then I started to feel that this was less important. I don't really study the new trends anymore, and perhaps have gone too far the other way…I care so much more about the subject matter and concept and the resulting image. I enjoy new gadgets, but definitely don't fixate on them or rely on them for my photographs. I have a pet peeve on the whole "planned obsolescence" of new photographic technology. You can create a great TV spot with an 8mm camera, you know?
LW: Tell me about your favorite pieces of camera equipment and housings…
RF: For print work my all time favorite equipment has been a Hassleblad Housing made in the 70's by Hugyfot with a Ziess Rebikoff port. I've used it for the past 12 years. Even though I mostly shoot digital with a Subal 1ds Mark II, I still on occasion shoot the Hugyfot. For film, I mostly use the Hydroflex 435 housing although I enjoy using the Red One underwater.
LW: Do you prefer scuba or breath-hold for shooting? I've seen you hold your breath for a looooong time…..

RF: That depends on the type of shoot I'm doing. Usually for stills I use breath-hold in order to have better communications with the talent. When shooting motion, I am usually on a hookah in order to hold the Hydroflex housing steady and stay in position for the shot. I do feel more disconnected from the models when I'm on scuba. You gain a level of empathy when you do breath hold along with the talent.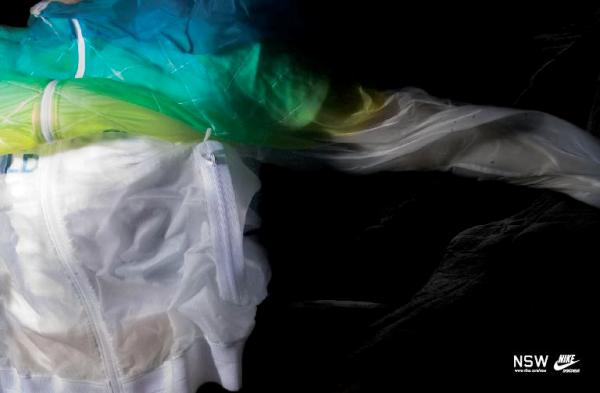 A Nike product shootphotographed by Ric in Los Angeles, CA.
LW: So can people purchase your prints somehow?

RF: I'm just now setting up to sell limited edition prints off my website. In the past I've sold at gallery shows and when interested people contact me directly.
LW: Who have been some of your recent clients?
RF: Kodak, Nike, O'Niell, Scuba Diving Magazine, Bio Presto, and Runner's World.
LW: Any underwater stars in your portfolio?
RF: I've been fortunate enough to photograph many world-class Olympians such as Michael Phelps, Natalie Coughlin, Alexader De Partie and the 2008 USA Synchronized swim team. I also photographed pro surfer Cory Lopez for O'Neill. I've co-directed an Alanis Morrisette music video and recently photographed legendary freediver Umberto Pelizzari.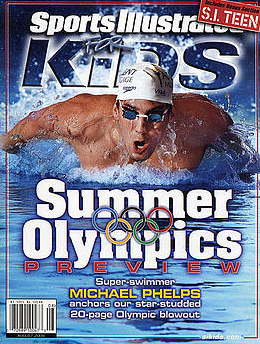 Ric's Sports Illustrated Kids cover, featuring Michael Phelps
Ric resides with his wifeand three children (his favorite models) in Los Angeles. To see moreof his work and follow his blog, visit www.frazierproductions.com