Grand Cayman, West Indies — At long last, the 250′ long USS Kittiwake, a retired Navy submarine rescue vessel has come to rest on the bottom of the sea floor in Grand Cayman, just off the north end of Seven Mile Beach in 58 feet of water. The dream of realizing a new artificial reef in Cayman has been a long time coming –seven years and a dedicated team of wreck diving enthusiasts, led by Nancy and Jay Easterbrook, were necessary to make it come to fruition. World renowned photographer Courtney Platt was on the scene to witness and document the momentous occasion.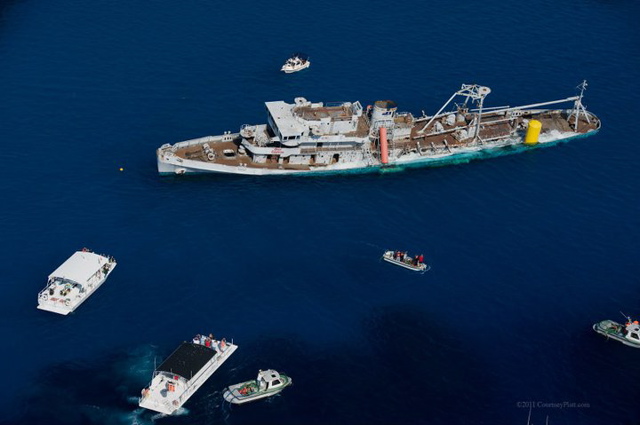 DeeperBlue congratulates Jay, Nancy and their entire crew on what will undoubtedly become a fantastic new dive site for freedivers and scuba-dviers alike, especially as the years go by and mother nature takes her turn to contribute. A neighboring wreck, the "Doc Paulson," has been on the seabed for about 15 years and boasts spectacular marine-life growth.
Check out the video of the sinking and read more about the Kittiwake here.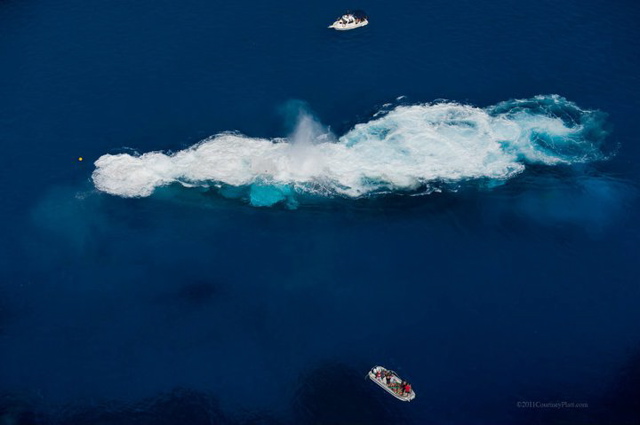 Photos courtesy of Courtney Platt.