Long Island, Bahamas — on the very first day of William Trubridge's Vertical Blue Invitational, two Chilean freedivers, Simon Bennett and Macarena Benitez, have made history.
Previously a safety diver the 43 year old expert spearfisherman, Bennett has been looking forward to making his own mark at Dean's Blue Hole. Despite an issue with equalizing during training, Simon successfully completed a Free Immersion dive (FIM) to 45 meters in 2 minutes and :03 seconds to set the first male record of the competition and the first Chilean national record. "The dive went fine and was very easy. I have been having a lot of trouble equalizing — some strange blockage that I just can't seem to budge, and I am still far from my PB of 50m," Simon shared with DeeperBlue. This is not only Bennett's first appearance at Vertical Blue as a competitive athlete but today's dive is only the second time he's ever even used a lanyard. Bennett, who captured his new national record wearing an orca breath skin, micromask and 1.6Kg neckweight, said "I am using a new Aeris F10 V2 for the comp, in beta test release, and it is performing very well."
Macarena Benitez stayed calm and collected all while overcoming a tangled lanyard at the start of her dive, to establish the first female record this week with a constant weight dive to 42 meters in a swift 1 minute and :13 seconds. Known by her friends as Maca, this 42m CWT dive seizes Benitez's first national record. Training with Kiwi freediving champion Niki Roderick, Maca Benitez is showing great promise for even more.
See the full results of all the performances from day one here and stay tuned to DeeperBlue for more news from Dean's Blue Hole.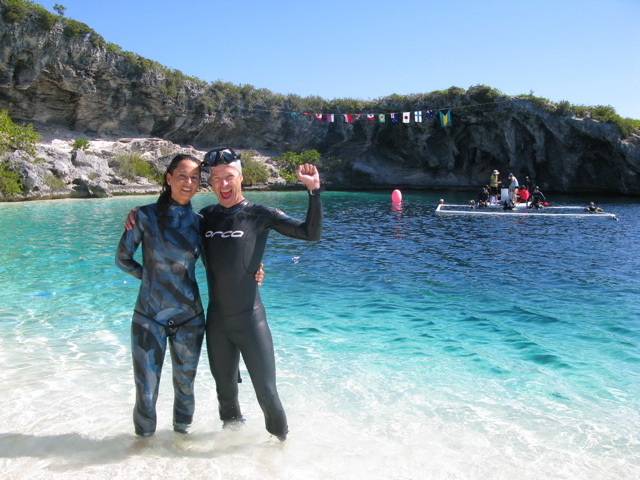 Photo courtesy of A. R. Hernandez