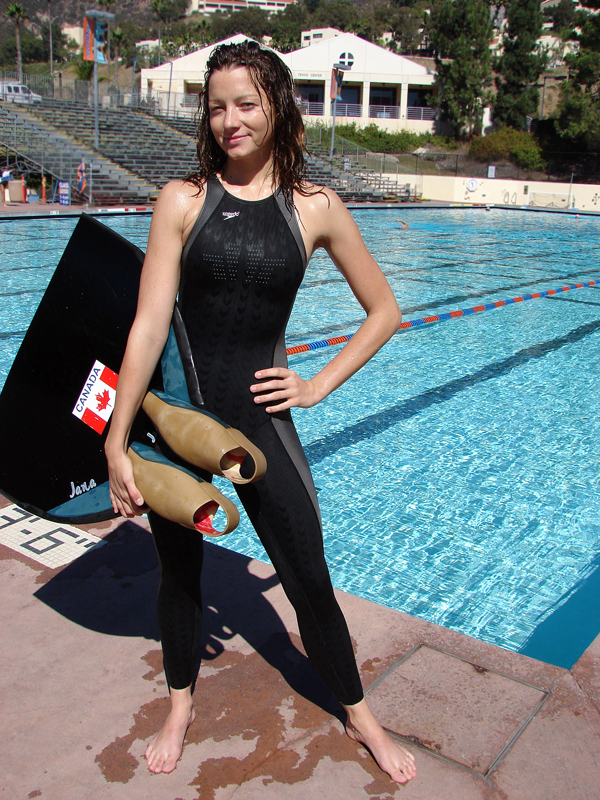 JanaStrain, a Canadian Freediver and resident of Santa Monica,CA, set a new Canadian and North AmericanWomen's Freediving Record with a swim of 171 meters (560 feet) in two minutesand eighteen seconds at Pepperdine University. Janabroke the existing Canadian Record of 150 meters (492 feet) set by Jill Yonedain May of 2008. This performance is one of the top five in the world by afemale athlete this year.
Jana is a relative newcomer to the sport of freediving having only taken herfirst course some five months ago. She was subsequently selected to Team Canada afterplacing third in the Canadian National Freediving Championships this past June. Jana stated, "I was a bit nervous about my performance before I began,but I was confident in my training and my ability to do the swim. I knowI have a lot more in me. I felt really strong when I finished."
Jana's record was supported by Pepperdine University and MalibuDivers of Malibu, CA. The record was officiated by Matt Charlton,Canadian Association of Freediving and Apnea (CAFA) President and AIDA Level EJudge, and Grant W. Graves, United States Apnea Association (USAA) Presidentand AIDA Level A Judge Instructor.
Dynamic Apnea is an underwater swim for distance on a single breath of airusing fins. Distance is measured with the use of a metered tape measure.The pool must be at least twenty-five meters long for the performance to bevalid. Other disciplines of freediving include tests in depth and time.
Source: MattCharlton