With a new President and a new executive board AIDA is striving to bring more transparency and efficiency to its members. AIDA has also reinvented its online-digital brand with an improved internet presence. The reinvigorated website will incorporate social networking features where freedivers from around the world can connect with each other, take polls, upload videos and share photos. The site is currently in beta form but promises to offer a robust calendar, a history of the sport and a new store.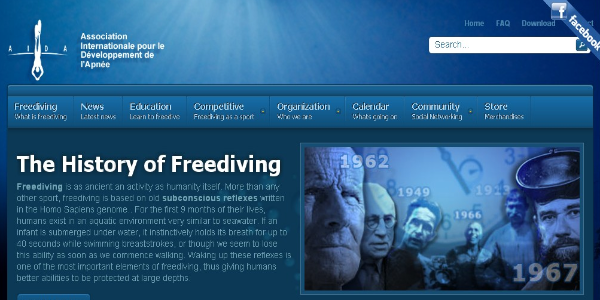 Stay tuned for the official re-launch but for now go check out the site and post a member profile here.
You can also join AIDA on Facebook.
The dedicated team behind the creation of the new AIDA site has been spearheaded by Jonas Andersson on development and Peter Sjöberg on design.
NEW AIDA BOARD
President: Kimmo Lahtinen, Finland
Vice President: Grant W Graves, USA
Secretary: Pia Jerabek, Switzerland
Sport Officer: Pim Vermeulen, Netherlands
Technical Officer: Gregory Piazzola, France
Education Officer: Stavros Kastrinakis, Greece
Medical and Science Officer: Dr. John Fritz-Clarke, Canada
Media and PR Officer: Sebastian Näslund, Sweden