On the final day of Performance Freediving International's 5th Annual Freediving Competition — "Deja Blue 2010" — Erin Magee made freediving history. Magee broke the longest standing US record – a women's constant weight record of 70 meters (230 feet) – that had been achieved as a world record in 2001 by Tanya Streeter.
Friday, May 14, 2010 Magee dived to 71 meters with grace in the warm blue waters off Grand Cayman. Erin's amazing dive to 71 meters under constant weight (CWT) completed a week that saw her make new personal bests sequentially thanks to the support she received from her international peers, on a trip made possible by Lauderdale Divers, MoonDog Outfitters, Sea Experience and Pro-Dive.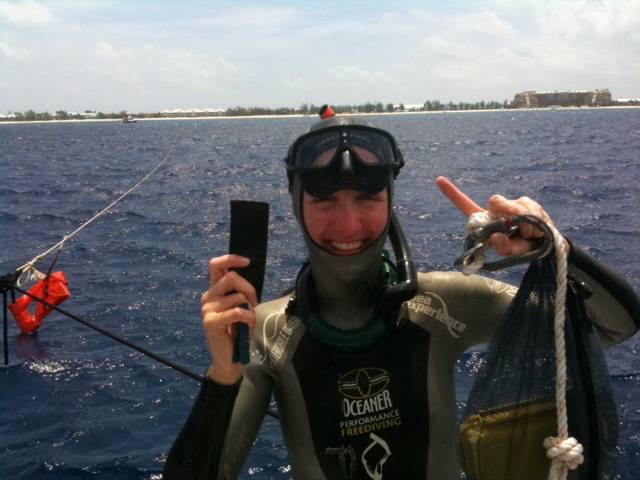 Erin's record-setting dive down to 233 feet took two minutes and 18 seconds roundtrip, but Magee has been thirsting for this U.S. performance for a while. ""Finally!" Magee exclaimed as she regaled her fellow competitors aboard StingRay Charters, "I have had this number in my head for a long time. I finally got it. The dive felt great, it was the best dive of the competition for me in terms of how I felt. I want to go deeper." Constant Weight is one of the most respected freediving disciplines requiring the athlete to swim to depth with fins or a mono fin and return to the surface, all under their own power on a single breath.
Erin Magee U.S. Woman's Constant Weight National Record from Performance Freediving on Vimeo.
Wearing fluid goggles and a Glide mono-fin, Erin made the CWT dive look easy although she is a relative newcomer to the sport. The 25 year-old, who was once a scuba instructor, is now 100% focused on freediving. Magee and her partner Ted Harty both train and work as freediving instructors for Performance Freediving International out of Fort Lauderdale, Florida.
Check-out all more videos from PFI's DejaBlue 2010 here.
Photo courtesy of Francesca Koe.