On April 17 2010, the quiet stillness of Deans Blue Hole was broken by an influx of some of the world's best freedivers. Athletes from across the globe descended on this remote, natural phenomenon to do what they do best; shatter national and world records. Freediving is a beautiful sport to film as well as watch. There is nothing else like the peaceful connection between humans and water as they descend into the abyss on a single breath.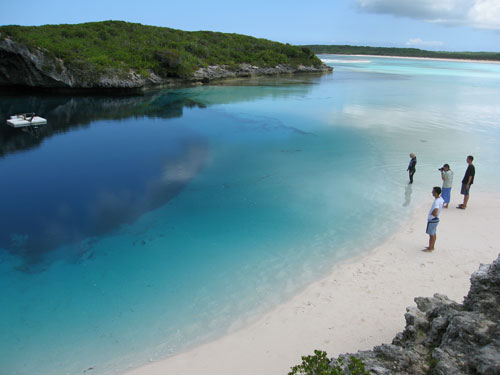 Being asked to provide video coverage for the 2010 Vertical Blue event proved to be both a challenging and exciting endeavor. Duncan Brake and I run a conservation media group called Oceanicallstars, with sharks usually playing the lead role in our films. Vertical Blue offered a break from the norm and opportunity to film some amazing athletes. Joe Holley from www.underwatervideography.com completed our team, along with four HD cameras and three Gates underwater camera housings. I think we had 10 suitcases between us as we boarded our tuna can with wings in Fort Lauderdale.
I have spent a lot of time in the Bahamas, but this was my first visit to Long Island and to Deans Blue Hole. Vertical Blue was also my first freediving competition. Before this event, my knowledge of freediving was based on seeing William Trubridge teach a class last summer and my own time spent in the water. To better understand the disciplines of freediving and to learn about the athletes themselves, we did a bit of research. This is when I realized, how little we really knew about this incredible sport.
The plan of attack for filming was a base plate mounted camera to provide bottom footage, a topside camera on the platform, a freediver with a camera following the descent and ascent and a shooter on scuba to capture images at a depth of 50-130 ft. This was a rather ambitious plan of coverage, but provided incredible footage. It took a day or two to get into the grove and work out the glitches, but we quickly became a well-oiled machine. Joe filmed on scuba, while Duncan and I rotated between topside and freediving. This gave us 4-5 different angles for each diver on each dive.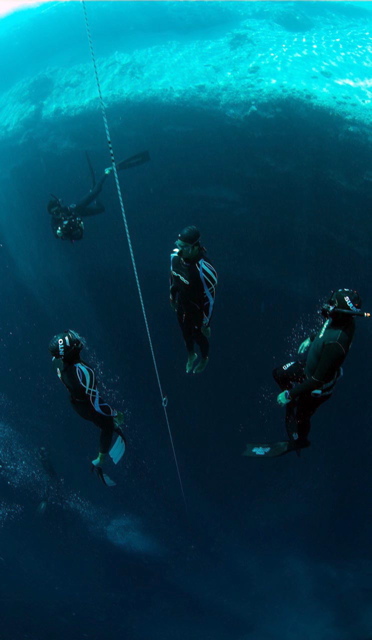 Our days were long starting out with the transport of camera and scuba equipment and ending in the early morning hours as we dumped footage, edited and uploaded. I think it ended up being a lot more work than any one of us expected, but was made worth it by the moments we were able to capture. Deans Blue Hole does not make for a bad office either. On day 3, William Trubridge broke the CNF world record, being the first person to reach 300 ft in that discipline. I do not think people, myself included, realize the capacity of the human body and mind. We were fortunate enough to be there first-hand to witness and film 23 national and six world records. As every diver made it back to the surface, safely, I found myself holding my breath!
Getting to know the athletes through interviews and as they dived, really changed my perspective more than anything else. Although they compete in the same disciplines, every diver is unique and has his or her own distinct personality in the water. There are the quiet champions like Eric Fattah, Mimi Hirai and Guillaume Néry ; the crowd favorites like William Trubridge; the raw passion of Carolina Schrappe and the childlike excitement of first time competitor Alfredo Romo. Filming each diver really enhanced the whole experience. Capturing the peace and movement of the human body through water is one of the most beautiful things. Carolina is truly a mermaid and Ryuzo Shinomiya moves so effortlessly, it is as though he is floating in air. The bottom plate footage surprised us all, being much clearer and brighter than anyone had expected. Seeing a silhouette in sink phase, sliding down the line and then reaching for the hard-fought tag before making that long journey back to the surface, is poetic.
I think the most significant thing I am taking away with me is the camaraderie amongst everyone involved. Everyone was eager to lend an extra hand no matter what the task. We had a couple of nerve racking mornings with some gear issues and a malfunction with the base plate itself. Everyone's inner MacGyver came out as the group scrambled to create a solution as fast as possible. Anytime people can use marine epoxy, zip ties and power tools, I think there is excitement. At least it kept things interesting. It is amazing how sharing something transformative can bring out the best in people and bring them together. The athletes, the safety divers, judges, support staff and spectators were all involved in making this event such a success. I hope that our video-footage helps to promote this stunning sport across the globe, as freediving definitely deserves the world's attention.
And I welcome you to keep abreast with all of our aquatic adventures at: OceanicAllStars.com
Deans Blue Hole photo courtesy of Peter Scott.
Jillian filming Trubridge photo courtesy of DeeDee Flores.
Ryuzo Shinomiya photo courtesy of Grant Graves.
J

illian's profile picture courtesy of Joe Holley.

(editor: francesca.koe@deeperblue.com)