In the clear blue waters off of Grand Cayman there's a race going on. It's not a sailing regata, or the swimming leg of a triathalon. It's a modern day motorcycle race – but it happens underwater while you hold your breath.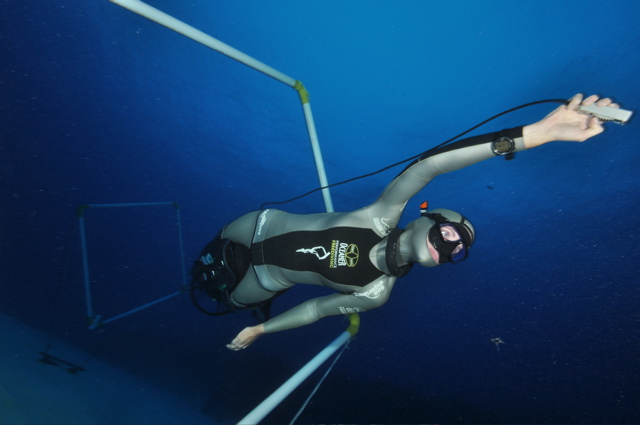 Kirk Krack of Performance Freediving International (PFI) came up with the idea of taking freediving to the next level — why not add scooters and speed? and so Formula 3 Freediving (F3F) was born. Incorporating some high-octane underwater sea-racers, made by Dive-X, and a few rowdy freedivers, a slalom course has been set-up down a sand chute with gates ranging from 20 to 35 meters. Breathe-up, hold your breath, dive down and take the ride of a lifetime; F3F is fast and furious but most of all fun.
"The maximum depth of this Cayman slalom course is 35 meters, and each of the seven gates we race through is about five meters apart," said Krack. "So far Ted Harty, one of our PFI instructors, has clocked the fastest time in a heat of races at :48.7 seconds. It's an amazing good time and a great way to decompress after the competition – DejaBlue."
To train for the races, Krack and his fellow freedivers sometimes take the scooters to even greater depths, and enjoy the many great wreck sites that Cayman has to offer. Krack has also been known to buzz by tourists submarines and scuba divers, ever expanding the circle of fun and surprise for everyone.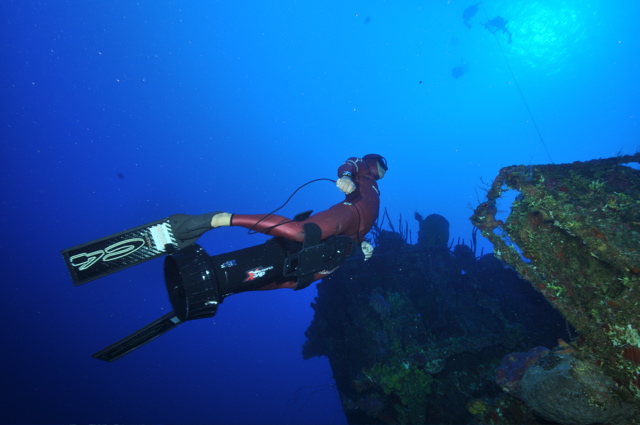 Check out some of the racing action in the video below and stay tuned to the F3F page on facebook for more updates, or the PFI website for your next chance to jump on a scooter take a rdie like you've never experienced before.
F3F Scooter Freediving, Cayman 2010 from Performance Freediving on Vimeo.
Photos courtesy of Bill Coltart.