This past November I was lucky enough to attend Performance Freediving's inaugural "Women's Only" freediving clinic in Kona, Hawaii. As the late summer months waned and my preparations and anticipation surged I began to wonder what it would be like. What would I learn? What would it feel like? As a pretty hard-core scuba professional I knew I was riddled with a few disadvantages coming into the course, which were namely 1) my own preconceptions, 2) an arsenal of bad habits formed around scuba gear choices and proclivities for teaching a different discipline, and 3) the overt, and perhaps, slightly dangerous, curiosity I had similar to that of a wobbly, undisciplined puppy. Hailing from the typically turbulent cold-water currents of northern California, I was very eager to immerse myself in the warm and welcoming waters of the Big Island. Relative to the conditions I normally teach scuba in, I knew I'd probably be comfortable in whatever Pele threw my way. What I would soon come to find out is that neither the water conditions nor the antics of a Polynesian goddess would be the biggest hurdle: that hurdle I would conveniently provide myself.
Julie Rife hits the plate.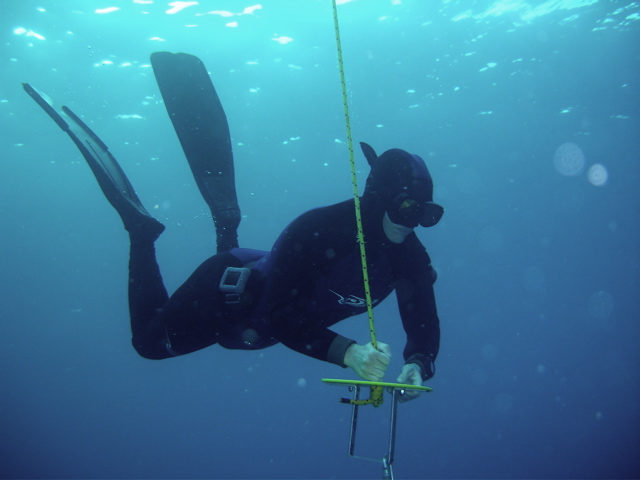 On Saturday, November 10th, 2007 seven worthy women gathered at Jack's Diving Locker in Kona, for the first-ever "Women's Only" intermediate freediving course offered by the husband and wife team of Mandy-Rae Cruickshank and Kirk Krack, founders of Performance Freediving (PFI) . As many of you already know Mandy-Rae is an accomplished athlete who has set myriad records herself, and currently holds the AIDA world record of 88 meters in constant ballast. And Kirk is no slouch either, having pioneered technical diving and instruction when it barely existed in the early 90's, and more recently training & coaching the likes of freediving legends Brett LeMaster, Tanya Streeter and Martin Stepanek–all of whom achieved world records under the philosophies of PFI and the supportive guidance of Kirk. As an instrumental catalyst for 20 different freediving world records, PFI was inspired by Kirk & Mandy's desire for good education and a reliable safety system. They have been thought-leaders and innovators in what is still an emerging sport. So, what I am essentially saying is that taking a PFI course and spending one-on-one time with Kirk and Mandy-Rae is the equivalent to playing 18 holes of golf with Tiger Woods. It is an amazing opportunity to learn from the absolute best and transform (or as in my case, create) your technique. Having access to such a personal level of freediving training by such talented instructors can be profoundly life changing, it is undeniably inspiring and most of all, while I can't vouch for hanging with Tiger, with Mandy & Kirk it is totally fun. Despite their hectic schedules, their constant traveling and lecturing, their high profiles and awesome achievements, Kirk and Mandy remain down-to-earth and very accessible.
Mandy-Rae demonstrates the grouper call and negative pressure.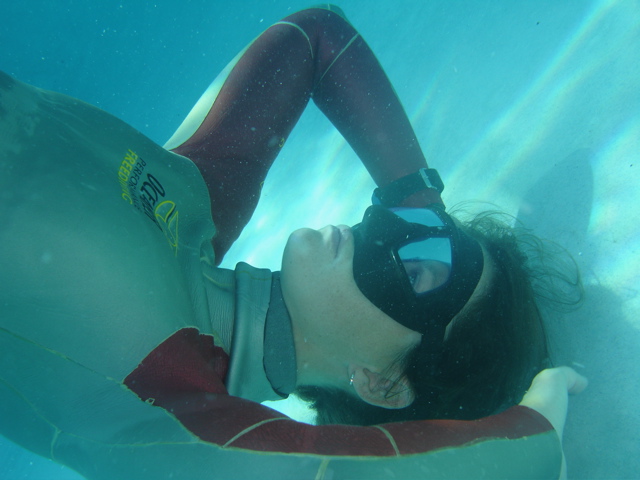 So back to that sunny Saturday morning and my stunning classmates. I say stunning because I was surrounded by an Olympic Swimmer and NCAA champion originally from South Africa (Liz), an unassuming, soft-spoken and very sweet sustenance spear-fisher woman from the Aleutian Islands (Susan), a vivacious underwater photographer/filmmaker from Canada (Braden), a dedicated young mom from So Cal, the doppelganger of a modern day Lana Turner (Kristen), a record-holding blue water huntress, who happens to manufacture RIFE spear guns for a living (Julie), and a yet another lovely Alaskan whose life's work has been committed to families in need as a public service attorney (Laura). Spanning all age ranges and experience levels, it was a pleasant and perhaps uncommon byproduct of the PFI course that as a diverse group we bonded quickly and seamlessly. Friendships formed and encouragement was pervasive as we all went through personal successes and some shortcomings during this clinic; we shared meals and felt like a patchwork family for a few days.
Kirk enjoys the benefits of a ladies-only clinic.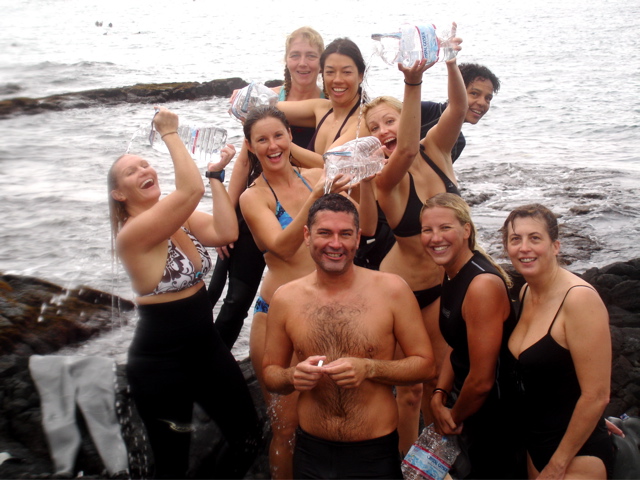 Prior to arriving, we had all agreed that while it was a "women's only" course, we would still welcome the male tutelage of Kirk as an instructor and the assistance of a few freediving friends that were guys as well. On our first day, Mandy and Kirk described how the course would be organized and how the upcoming days would unfold, and then started the presentation of freediving academics. They began by walking us through safety fundamentals such as how to be a good freediving buddy, why the buddy system in freediving and spear fishing is critical, tactical safety how-to's such as "when to safety on the surface vs. going down to assist". Then we became familiar with some of the mysterious acronyms and secret lingo in the sport; here's just a sample:
BO = black out
LMC = loss of motor control, also known as "Samba" or as NEAR blackout
"One up One down" –waiting on the surface 30 seconds BEFORE the next person goes down.
"Sink Phase" –you are past your neutral buoyancy at depth – no need to kick
"Hook Breaths" –take a breath in and hold it for 3 seconds
"Pulmonary Dump" –the lungs open up and brain's blood pressure drops
"the Rule of 9's" for performance evaluations = how do I feel? what feels different? should I continue? Namely addressing the 9 ways to answer the above regarding these critical areas:
1-near blackout (02)
2-contractions (co2)
3-pressure contractions
4-narcosis (n2)
5-chest squeeze
6-tired/burning legs ( lactic)
7-equalization
8-equipment
9-technique
Breathing up.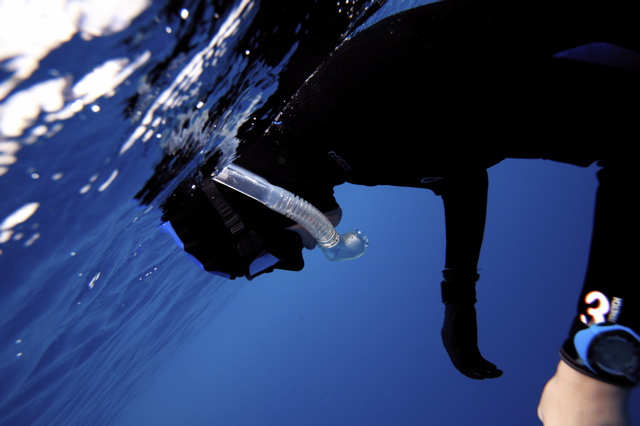 We discussed the signs and symptoms of near blackout and the physiological cycle of what is actually happening in our bodies and why when a near blackout occurs and how to prevent it.
The breadth and depth of background that Mandy and Kirk shared with us was both comprehensive and very technically informative, and for some it seemed a bit overwhelming. I was grateful to have a pre-existing understanding of physics and physiology, a strong theory foundation built by scuba and rebreathing training. What became manifest to me first in the classroom, and was then firmly cemented secondly in our pool and ocean sessions, was how important the ability to mentally focus would be. Paying attention to one's own personal technique in sequential steps (breathing, body position, quieting of the mind and conserving of the body's systems) is key to progressing in performance; as luck would have it I unfortunately discovered that this would be my area of weakness, my Achilles heel! Thank goodness my weakness could be somewhat counter-balanced by my innate comfort of being in open water. We practiced diaphragmatic ventilations, purging cycles and peak inhalations in the classroom and then we headed out to the pool for our first in-water breath-ups and static attempts. With our buddies in-tow we all attempted to slow our heart rates and increase our breath-holds as Kirk's voice provided a soothing backdrop of constant counting, timing and advice. Day one in the pool turned out my personal best in static apnea, just over 4 minutes! Day two proved to be less stellar for me as I wriggled about and lost focus because of an increasingly imminent need to go to the bathroom, although my classmates roared onto such personal best breath-holds as 5:15 for Laura, 5:07 for Liz and 5:00 for Julie. As it turns out, while I hurriedly jumped out of the pool to hit the head thinking "it's not polite to pee on my new-found buddies is it?" I returned to find out that they ALL had been peeing into their suits IN the pool the whole time! Sheeesh…don't tell Jack…and therein lies one secret of static apnea my friends, being TOTALLY and utterly relaxed, urinary tract and all.
Francesca breathes-up as Susan counts down.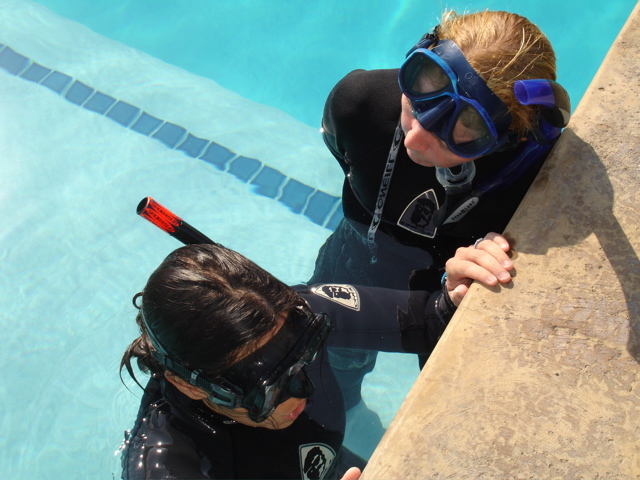 Day Two saw us gathering poolside first thing in the morning to do stretches and awaken our intercostals (the muscles that run between the ribs, and help to form and move the chest wall during breathing) sans caffeine. Then simulations of pressure at depth on our lungs through exercises of reverse packing and equalizations via frenzel techniques and grouper calls at the bottom of the pool gave us a preliminary 'experiential' peek of what we'd be feeling out at depth in the ocean.
We also made a shopping field trip to Blue Water Hunter that day where we each acquired new toys (gear) to aid us in our upcoming open water adventures. Suffice it to say we ladies did fair damage and Rob was sold out of a few key items, like Suunto D-3 dive watches, in a matter if minutes.
Equipped with our new accoutrements we headed south to a freediver's paradise, Place of Refuge, in Pu'uhonua o Honaunau National Park. The coral gardens of Honaunau Bay attract a host of ocean critters including shy green sea turtles and luminous tropical fish, and the calm clear waters of this cove provide the perfect environment for learning. Most of the island's local freedive enthusiasts congregate at Honaunau Bay on a weekly basis for their own target practices. A short and colorful swim from shore finds you in water about 50 meters deep, plenty deep for starters.
Liz Parkinson, Kirk Krack, Francesca Koe, Mandy-Rae Cruickshank and Julie Rife have smiles on the surface at Honaunau Bay.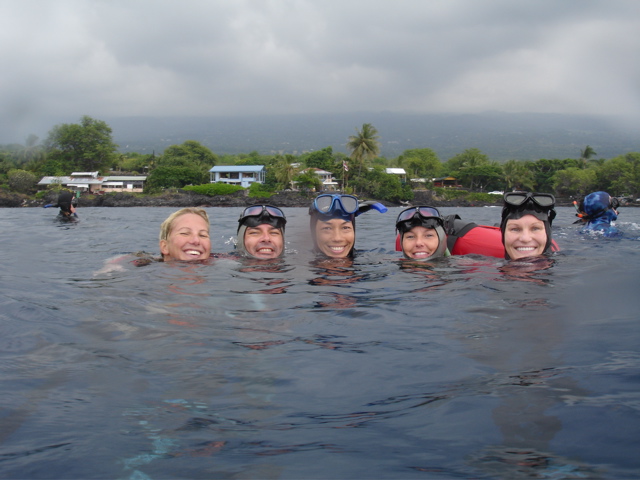 Since it is such an ideal location and popular spot for training, the freediving community-at-large has implemented a number of pre-placed submerged moorings that Mandy & Kirk used to attach our "rig". The architecture of this rig consists of a portable carbon-fiber pole frame, three floats, several lines, two target plates and a variety of clamps that allow the class to split into groups and to move up and down the lines unencumbered. Once we have the "rig" assembled, Mandy and Kirk demonstrate the skill we all aspire to and dive down with fluidity and grace, to effortlessly anchor our rig's lines on the moorings and ascend with style belying their experience. On our ocean outing we were joined by Kristen's dad Bill, and another PFI alumnus Scott Williams, who came along to get more of their own practice, take photos and aid as additional grouper callers when one of our ladies' heads or hand positions went askew, and in general offer moral support. We also ran into none other than DB's own freediving cognoscenti Emma Farrell, author of One Breath, who was playing a bit of hooky from her honeymoon that day at Honaunau Bay, whilst her hubby watched some American football!
The PFI rig in silhouette from below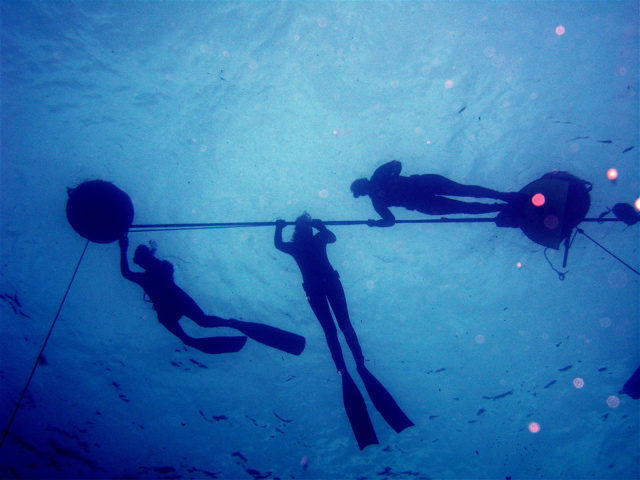 As on any training excursion, we began with a cycle of ventilations, visualizations and facial immersions to get us in the mood; we then commenced our open water training with pull-downs, basically using our hands to pull ourselves down the line to the target plate, (or wherever we were comfortable, for some at shallower depths) for practice and warm-up. After a series of pull-downs, Kirk and Mandy give us instructions for our 'dives' down, reminding us to be mindful of our body position and to start with strong kicks. Now while all of this sounds simple and easy, let me regale you with the tale of my spastic spazziness at the first ocean session. I'm not sure if it was a combination of my ego & nerves, coupled with a lack of familiarity with new gear, compounded by using fin blades that were too stiff for my ability, aggravating the already tightness of fin pockets because I had on one extra pair of neoprene socks, exacerbating that I was wearing a mask that was too high-volume, which all underscored that I was not being patient enough with myself or focused enough on my technique but I felt like and surely looked like a complete disaster! And to top it all off, all of my dive-mates were poised, elegant and graceful by comparison. In a word "Ugh."
Liz exemplifies good form.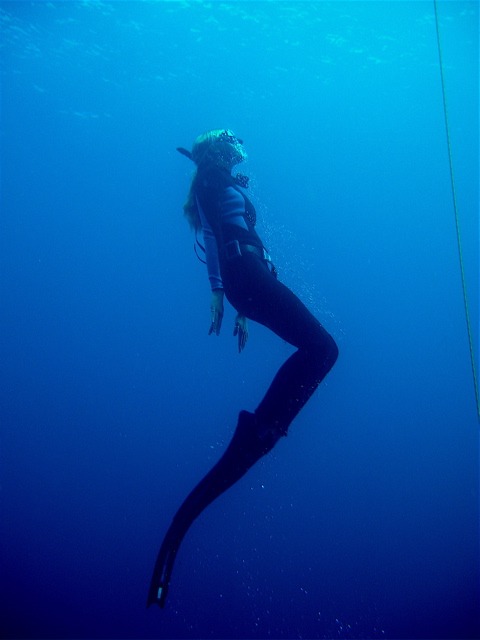 But the beauty of this humbling experience, especially as an instructor, is to recognize how it feels when you are doing it wrong so you really know when you are doing it right– god it feels so much better when you are doing it right! And how my scuba students probably feel when they are task loading (doing too much). Moreover, how patient, informative and kind Mandy and Kirk were to all of us in helping us precisely overcome our shortcomings or technical issues. How clear their instruction was and their sage ways of allowing each student to find the necessary steps to make their own positive change in a performance, as a result of their own efforts and clinic experiences. I had no idea that target freediving required such an intense introspective assessment. While it is great to have athleticism and proper equipment at your disposal, mental clarity and near-meditative focus are the keys to success. Seems I have ample room for improvement in all of these categories.
Francesca get those arms up!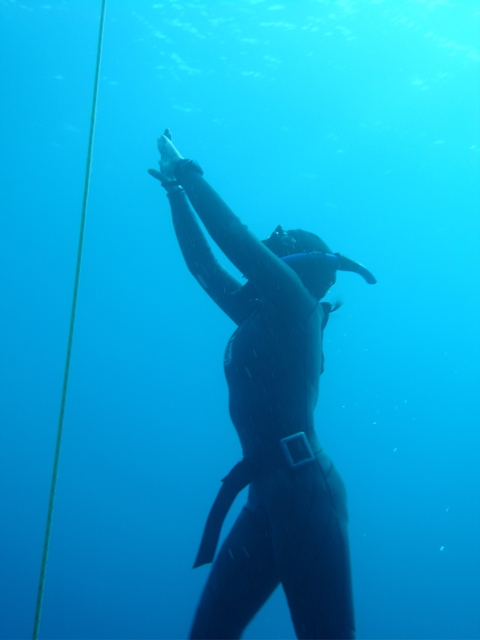 On Day 3 of our clinic we were literally cheered on at out target depth attempts by a playful school of spinner dolphins, and I really don't mean to complain but while the rooting and cheering of our marine mammal friends was wondrous it sure wasn't helping me to keep my head in a good tucked position, which I have enough problems with, let alone when I am wantonly gazing about for rascally dolphins!
Spinners are here!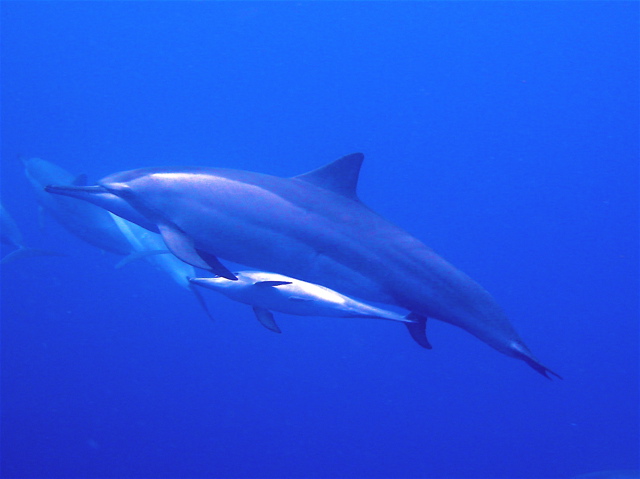 Needless to say, the next and final ocean session day for the clinic was transformative for me, I felt great! Like a new person, I was comfortable, I knew how to change the set-up of my equipment where it was failing me, I vastly improved my head-position (not constantly looking down at the target plate, just a little bit!), I recognized how and where I need to work on my strong kick cycles, and I recognized where the pressure contractions came into play and how to mentally work through them. I think all seven of the ladies experienced a new personal best, some were extreme target depths on one breath like Julie Rife smashing her husband's previous record and hitting an astounding 111 ft, Liz making 127 ft look easy, and Kristen adeptly reaching the 100 ft mark, and for others like Braden, Susan and Laura, while new personal best depths were achieved it was more about trusting their new-honed skills to relax and achieve equalization. And when you consider how much progress we all made during such a short mount of time, it becomes clear that remarkable goals can be quite attainable with just a bit of practice, more training and commitment over time. This PFI clinic gave us the critical building blocks for amazing feats to come.
Kristen's picture perfect ascent.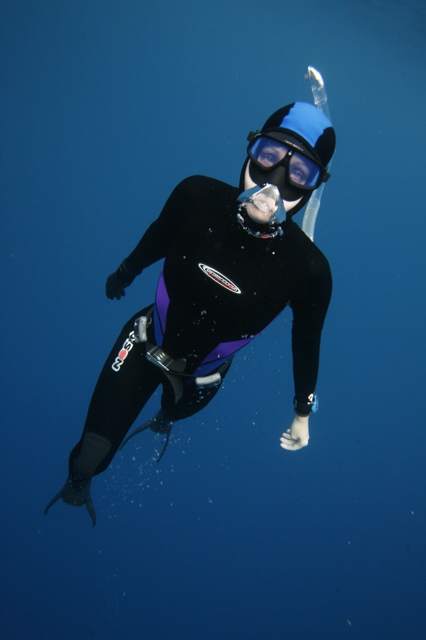 For me, the journey has only just begun, I'm drooling to get down just a tad more to 100 ft on one breath! I'm just now becoming aware of what's possible for myself and how much more there is to learn, how fun freediving is, and I am super enthralled with continuing my training. It was a treat to start this journey with a great group of women, it was a honor to be at the inaugural 'girls' course offered by Mandy and Kirk. IMHO, (in my humble opinion) this ladies-only clinic was a terrific success and I think they should continue to offer them. In any event, you can be sure I will be participating in more PFI courses, to garner new skills, improve my performance and gain even more confidence as I fine tune my technique under the watchful, yet constructive eyes of the world's best. The next available course, open to everyone (guys and gals) is just around the corner in Kona on February 16th. My new year's resolution is to freedive more.
Who's in?
Photos courtesy of Braden Haggerty and Scott Williams.