In what seemed to be a never-ending onslaught of sports and a deluge of athletic feats: the NBA Championship for basketball, the French Open for tennis, British Open for golf, the World Cup in South Africa adorned with an oracle octopus for soccer, the AIDA World Championships in Okinawa for freediving, the Tour de France for cycling – you might have missed a special achievement accomplished in June by one of the UK's very own.
Dave Tranfield — aka "Sheffield Steel" — set two new British freediving records while diving in Kalamata, Greece.
Tranfield set a new British national record in the discipline of Constant Weight No Fins (CNF) while diving at the 3rd Mediterranean Freediving competition, hosted by Stavros Kastrinakis.
Dave Tranfield has been freediving for three years and has dedicated himself specifically to the discipline of "No fins" for over 18 months. Due to difficulties equalizing at depth in other disciplines Tranfield began focusing only on CNF, with the tenacity of a honey badger. His hard-work in training and shift in focus proved worthwhile this summer, as he broke the long-standing British record of Sam Stills, by achieving a depth of 52m on a dive that took two minutes and :30 seconds to complete.
Whatsmore, only two days later, Dave Tranfield went on to improve his own new national CNF record by one meter and successfully dived to 53 meters. Wearing an Orca Free wetsuit and just 2kgs of ballast for both record dives, Tranfield enjoyed the second record setting dive much more.
"My first record was on the 17th of June and took 2mins 30 secs for 52m. It was hard as I was stressed with it being being a NR attempt and I was really at my limit at the end of the dive, albeit overjoyed at being able to succeed with a white card and a new record. My second NR attempt was on the 20th of June and even though it was deeper at 53m, it took the same amount of time. It was a much easier dive due to "no stress" as I didn't have the pressure of having to achieve a NR and I felt much happier with my performance."
Dave is already planning even greater depths in this challenging discipline, and is grateful for the coaching he receives from Ben Guyat, and the support of the freediving community and friends.
"With every dive right now I am gaining more experience and refining my techniques even more. It is a pleasure to be involved in with so many great athletes. A big thanks to my girlfriend for her encouragement to achieve my goals."
DeeperBlue expects to see more stunning performances from "Sheffield Steel" in the near future.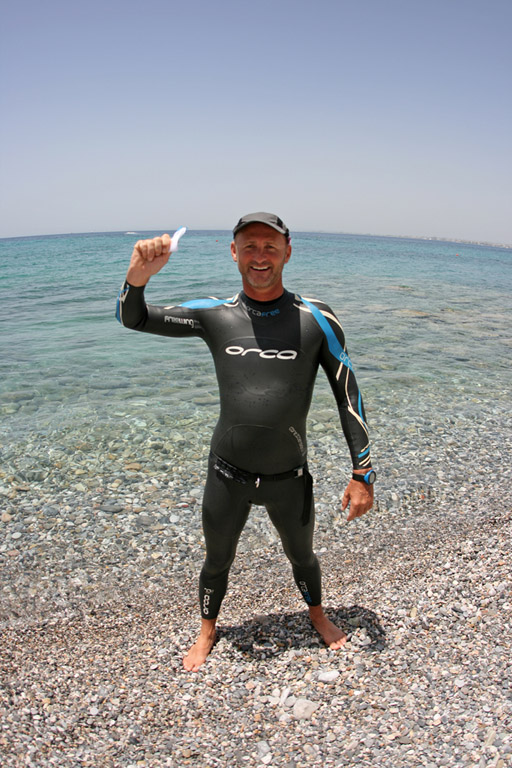 Photo courtesy of Laura Harris née Storm.