24 hours has passed since the first airings of ESPN's Nine for IX film "No Limits" that covers the tragic events surrounding the death of Audrey Mestre on October 12, 2002.
This was always going to be an emotional film to watch for me.  Whilst I wasn't at the record attempt, DeeperBlue.com was covering the event and one of my close friends (and Staff Writer – later Freediving Editor) Paul Kotik was onsite with Audrey Mestre, Pipin Ferreras and the IAFD team.
I was getting regular updates from Paul on what was happening and everything seemed set for a difficult but potentially record breaking dive in the Dominican Republic.
A number of key members of the Freediving industry, including Tanya Streeter – who had set the 160m No Limits record Audrey was trying to break, were attending a Dive Show in the UK that weekend and whilst I took the time to walk around the show the buzz was all about the events going on in the Dominican Republic and whether Audrey would achieve the record.
I remember the moment I found out – late on the Saturday night UK time – when my mobile phone buzzed with a text message from Paul…
"Must Talk. Terrible News… Audrey is Dead"
My heart sank at the text and what follows was weeks, then months, of reporting and responding on one of the saddest days in the Freediving world.  It made worldwide headlines… the cover of Sports Illustrated and feature articles in almost every international newspaper.
Even today when I speak to people about Freediving people tend to mention the tragic death of Audrey in almost the same breath as all the amazing achievements that have gained recognition for this amazing sport in recent years.
To be honest I had forgotten about all the emotion and tragedy however watching the film brought it all back like a sharp slap to the face.
Alison Ellwood has made a truly remarkable film though, a credit to her as a director, as the film could have gone down the dark alleys of rumour and mischief surrounding Audrey and Pipin and sensationalized Freediving (as so many documentaries do), but she makes a compelling film that carefully looks at the characters, the events, the safety and the foreboding of a poorly organised event and compromised safety.  All the while drawing parallels to the success and careful organisation needed for these sorts of events and characterised by Tanya's 160m No Limits dive.
In fact I felt compelled to talk to both Tanya and Paul, as they both feature in the film, after the it aired to gain their perspectives…
Tanya Streeter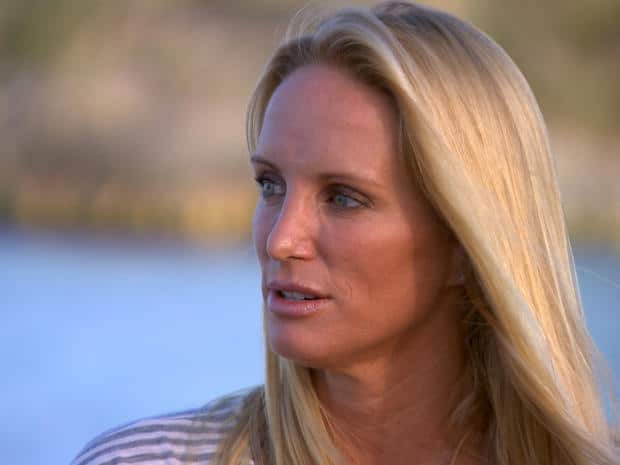 "I initially refused to get involved with this film as I was concerned about whether enough investigation would be done and thus the true story be told…..to the extent that is possible. It took a lot of meetings with the producers and when I met director, Alison Ellwood, I finally began to believe the story would be told appropriately. In the end, I know they did a great job and I am confident that I made the right choice in contributing. Perhaps I was unrealistic in hoping for a greater sense of closure…..but I think that will only come when the record is safely broken."
Tanya Streeter / www.tanyastreeter.com / @tanyastreeter

Paul Kotik
"Last October 12,  2012  marked the 10 –year anniversary of that unforgettable day on the waters of Bayahibe, Dominican Republic, when Audrey lost her life.
Director Allison Ellwood shot my interview footage over a year ago in Miami.   The interview certainly awakened all the remembrance of the horror, the angst, the madness that had filled our lives.   If the interview had gone on another ten minutes or so, my self-restraint would have flagged and a most unseemly display ensued.  But life going on enveloped that interview and left it way upstream in a matter of hours.  I thought of it from time to time as the months passed.  I didn't lose much sleep over it – some , but not much.  Until lately, as the air date approached.
I wondered what the film would be like, what it would say.

I see that Allison learned everything. Everything about what happened, how it happened, who it had happened to. I had been anxious about the disclosures that might be made, some by me myself, and about the reactions of Pipin and others to these disclosures.

But Allison Ellwood has  wisely abstracted the views and the colors that made the right film for now.  It's a very different film from the one James Cameron would have made. It's different from the one I might have made, were I the sort who makes films.  It's certainly different from the sordid Hollywood B movie that certainly could have been made by any one of dozens of directors.  There's no need for any of that anymore, no value in it for anybody.  If justice is wanting, it must be done elsewhere, and otherwise, not in media. 
Allison Ellwood's No Limits is a superb instance of the documentarian's craft.  Human events are complex, and there are always many stories that can be teased out of them.  This film tells the story I prefer to carry forward with me, and the rest must rest.
Paul Kotik / Former DeeperBlue.com News Editor

Overall the film is a positive for the world of Freediving.  The sport has grown exponentially since 2002 and is now mature enough to handle the spotlight being directed at the more extreme ends of the sport.
No matter what people's opinion of the crazy end of the sport – we have to remember that No Limits is currently not being ratified as a competitive discipline, due to a number of high profile incidents.
However the recreational side of the market and international competitive events in other disciplines such Static Apnea, Dynamic Apnea and Constant Weight are growing at a tremendous rate.  In fact with mainstream recreational training taking place with the likes of AIDA and SSI we are seeing more people enter the sport safely than ever before and progress to all levels including top competitive disciplines.
All we can do is learn from the events of 11 years ago and make sure that future generations know Freediving for the wonderful sport and activity it is.
Those of us that remember have put the events of 12th October 2002 out of mind but none of us involved in the sport at that time have forgotten…
Audrey – we miss you and can only wish things had been different – we all lost a part of ourselves that day.
You can watch the film online via DeeperBlue.com here
Get More Articles Like This!
Subscribe to our weekly newsletter and get more interesting stuff like this direct to your email inbox every Friday.