As a marine biologist, diver and videographer I have the good fortune of routinely travelling to the most wondrous locations. When I stop to think about where my favorite places are, I realize that many of them – the best places on the planet – are right here in the Bahamas. These islands offer beauty and adventure – including a diverse range of shark encounter opportunities, such as the world famous Tiger Beach – which is a Mecca for shark enthusiasts. People travel from around the globe to catch a glimpse of the big beauties that inhabit the waters at Tiger Beach. Film crews, television hosts and scientists alike revere this site as the ideal location to film, observe and conduct research. I have been blessed to spend quite a lot of time at this special place and I must confess that each time I visit it is completely different. Tiger Beach is really an irreplaceable, one-of-a-kind natural resource. Tiger sharks and lemon sharks are the primary species, but great hammerheads, Caribbean reef sharks and nurse sharks are also known to make appearances. Part of the excitement lies in never knowing what you might find when you slip beneath the surface!
As Jacques Cousteau astutely once said "people protect what they love," and so I got involved with the Shark Free Marina Initiative because I love sharks. This campaign was designed to reduce the worldwide shark mortality rate by working with cooperating marinas. In the Shark Free Marina Initiative making the commitment means that no caught shark can be landed within the marina for any reason. There is no processing of meat, removal of the jaws of stringing up of the animals for photographs. Fishing for sharks within the participating marina is also prohibited. (This encourages fisherman to catch and release if they do insist on catching sharks at all.) The program also works to teach proper techniques for catch and release, in order to increase the chance of survival for a caught shark. And while they have been historically, albeit incorrectly, perceived as monsters, sharks are extremely sensitive to being caught on a line. Just because they are released and not killed at the time of that release, does not guarantee they will survive at all. The Shark Free Marina Initiative also encourages fisherman to tag the animals with simple dart tags, as a means of increasing data collection.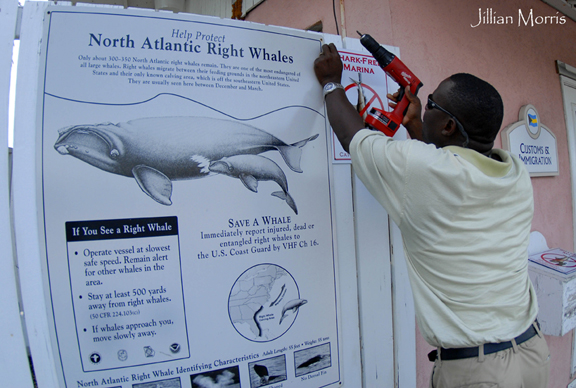 My work with the campaign began while I was living on the island of Bimini in the Bahamas. The Bimini Sands Resort & Marina was the first in all of the Bahamas to join the campaign, through a push from recreation managers Grant Johnston & Katie Grudecki ( former Sharklab managers) Bimini is home to big game fishing, drawing anglers from across the globe in search of a prize catch. It is also home to the world renowned Bimini Biological Field Station ( Sharklab.) The owner of the resort felt that protecting a valuable natural resource is vital to maintaining the essence that is Bimini. Once the first Bahamian marina was established in the program, my next goal was to get the Old Bahama Bay Marina on the West End of Grand Bahama Island, to join. Serving as the gateway to Tiger Beach, and the customs clearance point for all live aboard vessels headed in that direction. I knew they would stand as a strong example, and began the recruitment push.
The campaign itself actually grew out an incident where a massive tiger shark was killed and brought into this particular marina. Not only was it bad for the environment and bad for the animal, but having a large dead and disemboweled creature strewn across the dock is also bad for business. Nathan Moody, the director of operations was eager to get involved. It took nearly 6 months to get all the right approvals and people in the right place, but in September of 2009, the marina hung 2 signs confirming its commitment to this movement. News spread across the globe as this bold step towards conservation was occurring in of all places on Tiger Beach.
On a recent trip to the island I discovered that Nathan Moody and Luther Ferguson, who oversee the management of the marina, were committed to making an even stronger impact. They wanted to make sure that not just visiting boaters and tourists were aware, but that their staff and the local community were aware. Moody, Luther, Duncan Brake, (another regional ambassador,) and I organized an information session for residents about sharks, ocean conservation and what being Shark Free actually means. We were also able to hang 2 new, more durable signs, thanks to the recent sponsorship by the Humane Society of the United States. Luther was beaming with pride as he hung the new sign on the post where boats first enter to marina to check in. It is really exciting to see people reaching out and wanting to not only support the movement, but to really put their hearts into it.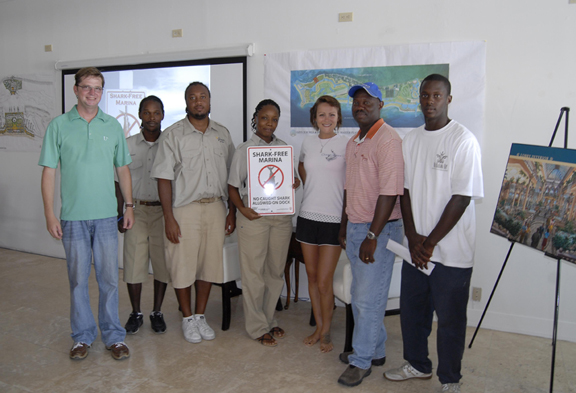 I had the opportunity to take Luther on a trip to Tiger Beach. Luther loves the water and is an avid freediver, but wanted nothing to do with the sharks. He was happy to watch from the safety of the tuna tower. After 3 days, of watching us film and seeing dozens of lemon sharks around the boat, he asked me if he could learn how to dive. He wanted to sit on the bottom and see the sharks up close. Success!!!! One person at a time; slowly, but surely making a change. This is why we do this work. These are the rewards. Seeing such a change of heart from one person and knowing he will stand as a pillar in the community and encourage others to experience sharks up close. Luther was also instrumental in pushing for more education about the program for the marina staff. Several of the young employees wanted to go snorkeling immediately following our presentation. Seeing their excitement and energy brings hope to this work. One dock hand approached me the next day and asked what he needed to do to get certified. He explained that he had been on boats, but never below the surface. He wanted to see for himself all these amazing things we were talking about. Again, my heart was happy.
I want to thank Nathan Moody and Luther Ferguson for making our presentation happen and the Old Bahama Bay Marina for making the commitment. You stand as strong examples and will no doubt encourage others to the do that same.
For more information please check out www.sharkfreemarinas.com or www.humanesociety.org
Photos Courtesy of Jillian Morris.
(editor: francesca.koe@deeperblue.com)