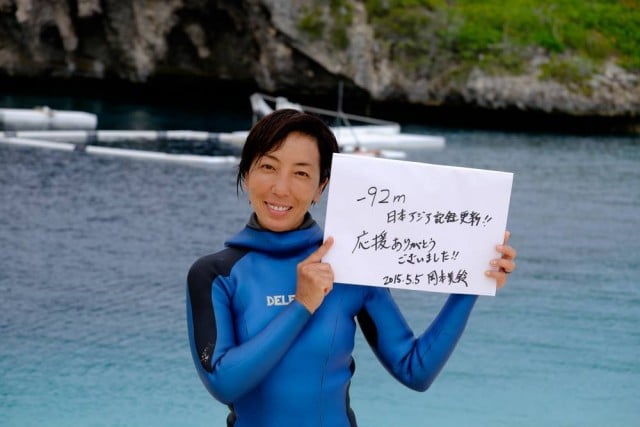 Misuzu Okamoto (née Hirai) has gone where no other female Japanese diver has ever gone before on a single breath. Last week at Suunto Vertical Blue 2015 the petite but powerful freediver accomplished a true personal best performance with a constant weight (CWT) dive to -92 meters in a dive time of three minutes and :01 second. Mimi successfully completed this record setting dive on the seventh day of the grueling competition, after a failed attempt just the day before. Garnering a white card on her final attempt Okamoto was able to propel  her own Japanese national record even further. With the competition now behind her, Mimi was kind enough to share her perspective and provide some insight into what she was feeling and how she prepares.
DeeperBlue.com:  Tell us about your first (failed) attempt at 92m – what happened on that dive?
Misuzu Okamoto: "There was a storm on the morning of day six and much lower temperatures, so I was cold and shaking. I think ultimately that was the cause of my concentration breaking off. Then once I started my dive, I actually swallowed all of the air in my mouth-fill at 60m. At that point I realized that if I continued to dive I might be able to get to 80m, but I knew that I would not be able to make it to the plate. So I immediately decided to return early to preserve my physical strength for another attempt at the dive the following day. Additionally, because I didn't want to use up my leg power (any more than necessary) I chose to pull up the line using the free immersion technique."
DB:  So what about the successful, white card CWT performance; how did that dive feel?
Mimi: "Well to tell you the truth I started to get frustrated because my nose clip kept coming off of my nose. In fact, during the dive I had to hold my nose clip on. And I had severe muscle fatigue, probably because I was super fast – my dive time was 15 seconds shorter than usual. The next time I make a big dive like this I want to be more relaxed, but I am very happy that I made it."
DB: What is your favorite thing about vertical blue?
Mimi: "The beauty of Dean's Blue Hole is my favorite thing. That and being able to witness the amazing performances and dramatic personal journeys of so many freedivers. Watching all the others increases my motivation."
DB: Where and how do you train when you are at home??
Mimi: "Usually, I do long-distance fin-swimming at the pool in Tokyo every week. In the summer time, I train every weekend in the sea.  I also like to do Yoga and stretch at home every day. But then my very cute 🙂 dogs end up disturbing me! "
DB: How does it feel to be the third deepest woman in the world ever?!
Mimi: "I simply cannot believe it because I was not able to swim at all when I started freediving 12 years ago! As for the ranking, it's cool but I don't think about it very much — I always want to continue to improve my own performances and surpass myself each day."
DB: Who would you like to thank?
Mimi: "I would like to thank all of the kind people who support me, my sponsors, my family. And of course Ryuzo, Sayuri, and Yuki, with whom I stayed on Long Island."
DB: What about the other disciplines? Do you ever try FIM or CNF? And of those two which do you prefer after CWT??
Mimi: "Unfortunately I was not able to go in the sea since the winter #VB2014, so for that reason I decided to concentrate only on CWT for #VB2015. From time to time I will do free immersion, but I definitely prefer watching other people do no-fins — we can leave CNF for Ryuzo and Sayuri!  :)"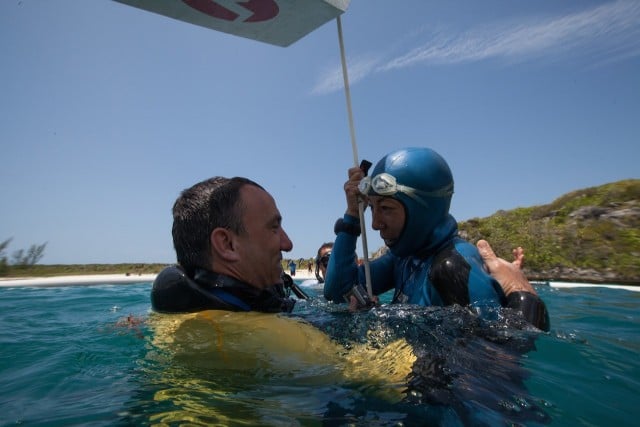 (photo © Daan Verhoeven )

Get More Articles Like This!
Subscribe to our weekly newsletter and get more interesting stuff like this direct to your email inbox every Friday.