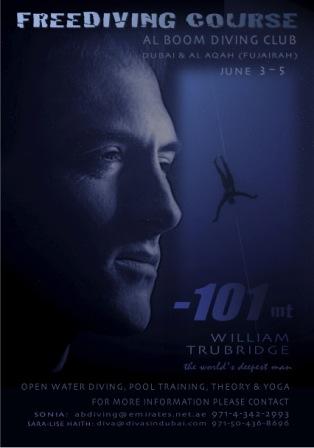 World champion New Zealand freediver and world record holder William Trubridge, the world's deepest man and the first man to freedive to 100 meters with no assistance of any kind is coming to Dubai, to hold a special freediving clinic from 3-6 June.
Anyone who enjoys snorkelling and the ocean realm can join this clinic, no previous freediving experience to learn with one of the world's leading professional freediving instructors.
This course is also suitable for spearfishers, freediving instructors who would like to learn new coaching skills, and certified freedivers who want to have the extra "edge".
The course will consist of practical sessions, theory and techniques of equalisation, including lung stretching exercises, components of yoga & pranayama, dry training exercises, and relaxation. The final day is a depth session of diving in Fujairah from Al Aqah.
William holds the world record in the discipline of Unassisted Constant Weight (no fins), and can dive to 101 meters (288 feet) without the use of fins, rope, weight, or any other form of assistance. In 2010 he also broke the world record in the discipline Free Immersion, with 116m (380 feet). He currently trains in Tenerife, at Tenerife Top Training Center during the summer and Dean's Blue Hole (Bahamas) in the winter.
For information please contact Al Boom Diving Club at 04-342-2993 or email abdiving@emirates.net.ae or alternatively email Sara-Lise diva@divasindubai.com