There are so many amazing stories to tell from Suunto Vertical Blue. There are the big splashy world record, champions battling kind of stories, and then there are the more subtle but somehow equally as compelling stories happening among steady athletes who are achieving life goals and proving to themselves and everyone else just how strong they are. Tomoka Fukuda is one of the latter. The beautiful freediver from Japan is petite in stature but packs a power punch when it comes to constant weight. Today, on the sixth day of the competition Tomoka successfully completed a monster dive to 80m CWT.
"I decided one year ago I would dive 80 meters at this competition, and today I did just that – it feels so good!" giggled a very exuberant Tomoka. It's been a big year for the Japanese athlete who also recently got engaged to the official photographer of Suunto Vertical Blue when he proposed to her underwater in a cave off the coast of Puglia. "I'd like to thank my sponsor 511, and my training partners & coaches: Tetsuya Yoneta, Ryuzo Shinomiya, and Igor Liberti." Fukuda said. Just one short year ago Tomoka's deepest dive was to about 58m, and now she is diving to 80m with what appears to be the energy to go even deeper. Tomorrow is a rest day for all the Suunto Vertical Blue competitors but after that there are three diving days left to see what other surprises Tomoka has in store for us all.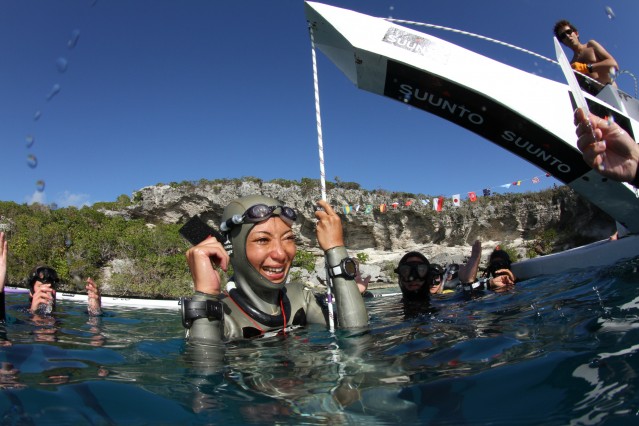 photo ©  Igor Liberti
Get More Articles Like This!
Subscribe to our weekly newsletter and get more interesting stuff like this direct to your email inbox every Friday.