Newcomer overcomes stormy conditions to score double records

Michael Cheesman, a relative newcomer to the intense sport of breathhold diving, is the captor of two Australian records — successfully becoming Australia's deepest man in his first-ever freediving record event. The 44 year-old father of two beautiful daughters, Michael Cheesman completed a Variable Weight (VWT) 101m dive and No Limits (NLT) 106m dive. Cheesman claimed both records on December 21, 2010 with respective dive times of two minutes :44 seconds VWT and two minutes :31 seconds NLT.
A chiropractor from Adelaide, South Australia, Michael had only made his first competitive depth dives in April of this year, (he dived to 70m in Free Immersion.) After this relative quick start for a newbie, Michael ambitiously set his sights on the Australian records, not only in the sled disciplines of No Limits and Variable Weight, but also Free Immersion, (which was the only record to elude him this time round.)
Coached by four-times World Record holder, Sara Campbell, Michael trained for a month to prepare for what would ultimately become a record-setting performance. After multiple set-backs on the first five days of his attempts, including his first ever black-out, Michael had to focus himself to perform three perfect dives under the huge pressure of having lost all his back-up days — in other words there was no wiggle room. All three attempts were executed under 'all or nothing' circumstances in just two days, making his successful dives all the more impressive.
Cheesman's coach Sara said: "Attempting freediving recordsprovides enough high pressure under ideal circumstance but having to squeeze a week's worth of attempts into just two days, and pulling off two separate records on the same day, was a highly unusual feat. Michael's incredible mental strength, combined with a natural affinity with the water, is what enabled him to pull off these brilliant records under very challenging circumstances. He absolutely deserves them."
Michael was typically understated following his amazing performances: "I feel justified. I knew could do it, and I'm just glad to have had the opportunity to have proven it – not just for myself, but for my family and all the people who have supported me in this."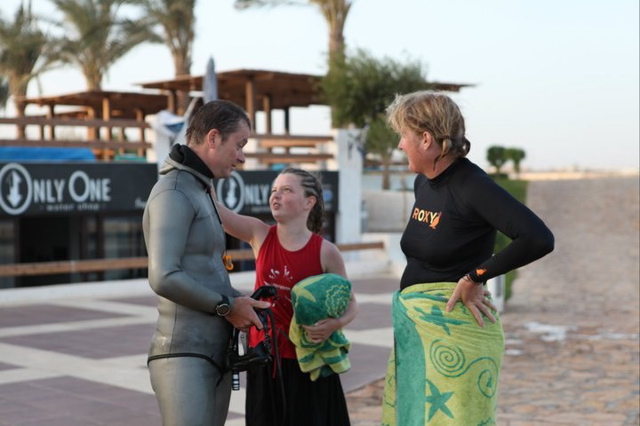 Sweet sled success
Michael has held a lifetime love of the sea, starting with family holidays to Torquay, Victoria for snorkelling and surfing. A recreational interest in breathhold diving led to hunting for crayfish off the Southern Australian coastline and evolved into completing a Performance Freediving International course with Kirk Krack and Martin Stepanek in Miami, Florida. Then Michael took a class with Umberto Pelizzari in Sharm El Sheik, Egypt before he transitioned into competitive freediving in April 2010 when he started working with his current coach, world record holder, Sara Campbell. In his first competition he increased his depth from 40m to 70m in Free Immersion and took second place overall.
The chiropractor who enjoys spending his leisure time as a pilot, has also competed at pool disciplines in Wellington, New Zealand, achieving six minutes in static, and later in Sydney a personal best of six minutes :45 seconds STA in 2009.
Following the stormy conditions, which beset Michael's attempts for four days, and a failed attempt at Free Immersion on day one, the team decided to start Michael's No Limits dive on 21st at 8:00 am to take advantage of the calm morning conditions. Unfortunately, his first No Limits dive was disqualified due to a technical error on the surface at the end of the dive. Appearing amazingly calm and composed, Michael completed his second dive to 106m to claim the Australian No Limits record a mere 30 minutes later in picture-perfect style. Buoyed up by the success of becoming Australia's deepest man, Michael attempted his second record of the day in the afternoon with a perfect dive to 101m in Variable Weight.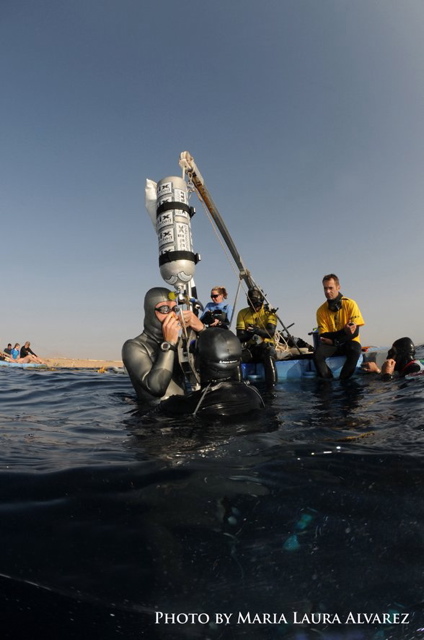 As Michael explained: "My first love of freediving came through Free Immersion. But then I discovered sled diving – what a blast! I can see why people become addicted to this sport, it's a huge challenge, but also so much fun! The speed of the sled knocked my goggles off the first time I tried it!"
Sled disciplines are sometimes perceived as the most dangerous of all freediving disciplines, given the extreme depths divers are able to reach using the weighted sled. In "No Limits" the diver ascends using the assistance of an air-filled lift bag, but in Variable Weight the diver must self-propel himself or herself back to the surface after riding down on the sled. Massive depths are possible as a diver is able to conserve energy riding the sled upon descent, but the challenge is whether one's body can stand the tremendous pressure exerted on it by the water at depth. At over 100m Michael's lungs will have been compressed to under a tenth of their normal size. He also had to learn to equalize his eardrums constantly to prevent them from bursting, a complicated technique which can hold many freedivers back. Having additional technical guidance on sled training, from Only One Apnea Center instructor Andrea Zuccari, was helpful to Michael in his preparation.
Sara said: "I was so emotional for Michael on his No Limits attempts. I knew absolutely that Michael could make that dive, and when he finally surfaced to claim his title I burst into tears – I know what it means to work so hard for something, but to have faced so many set-backs this record was all the sweeter."
Free Immersion challenges
Michael was aiming for a hat-trick at this event, hoping to grab the Free Immersion title as well. However, an untimely surface black-out (attributed to delays) on his first FIM attempt on December 17th seemed to have put a spell on FIM for Michael; his final attempt at the discipline on December 22nd resulted in a somewhat deeper black-out and a resolute end to his challenge this go round on that title.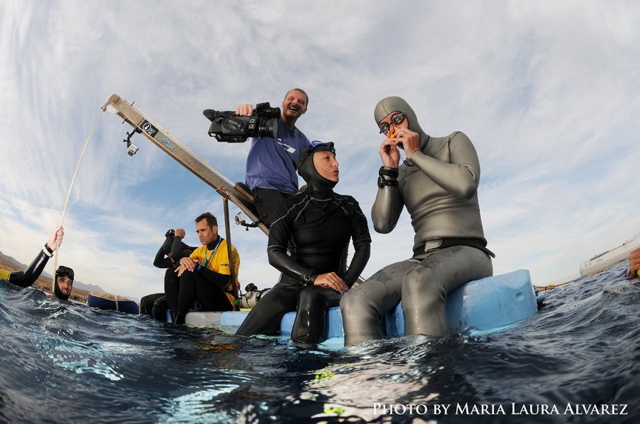 EVENT SUMMARY
17th December

Free Immersion attempt 83m – no doctor, delays, black-out

18th December

Free Immersion 83m – cancelled due to rough conditions

19th December

Rest day

20th December

No Limits 106m – cancelled due to rough conditions

21st December

No Limits 106m – AUSTRALIAN RECORD

Variable Weight 101m – AUSTRALIAN RECORD

22nd December

Free Immersion 83m – black-out
Sharm shark attacks
In addition to the usual challenges that a diver faces when attempting records of such magnitude, Michael and his team faced the threat of shark attacks, following the shocking and very unusual mauling of four tourists and death of another just a week and a half ahead of his attempts, at the same resort. It was unlikely that a shark would attack Michael himself as the sled is such a foreign and frightening object for a shark, but the safety divers, and support crew were all rather vulnerable as they waited on the surface for Michael to return.
In fact, the delays on Michael's first attempt day were caused due to a shortage in medical staff in the area following a ban on all watersports in the area after the attacks and doctors taking holiday before the busy Christmas and New Year period. Only one doctor was on watch to cover the limited amount of scuba diving being permitted after the attacks and was called to an emergency just minutes before Michael's first attempt on 17th December.
This delay resulted in stress, uncertainty and a decrease in body temperature which compounded together resulted in Michael's first black-out, from which he recovered within seconds. A second doctor was brought in to cover the remainder of the event to ensure no further delays.
Black-outs
Black-outs are actually a natural survival mechanism of the body, triggered by low oxygen levels in the blood, shutting down the body to protect the brain from damage. They are dangerous only when a diver dives alone, otherwise most divers begin breathing again automatically once their airways are exposed to air once more.
Freediving feats
Michael's records break those previously set by fellow Aussie Ben Noble in Variable Weight (100m) and No Limits (105m.) Walter Steyn's Free Immersion record of 82m remains safe – for the time being.
Michael added: "The last month of training and these record attempts has made me realise what an awesome feat both Wal and Ben achieved, and I give them full respect for their records."
The World Records for these three disciplines currently stand at Free Immersion 120m, Variable Weight 142m and No Limits 214m. All are held by the world's deepest man, Austrian Herbert Nitsch. Who also – coincidentally? – happens to be a pilot! It is suspected that Herbert's time at altitude may assist his ability to deal with oxygen starvation during dives – as a pilot maybe Michael will be the first man to emulate this training practice and challenge Herbert in the future?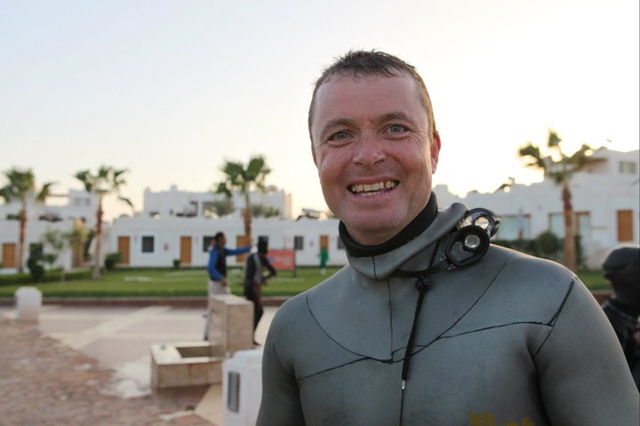 DISCIPLINE DESCRIPTION
Free Immersion
The diver pulls himself down the rope using only his arms until he begins to freefall, and pulls himself back to the surface. He is not allowed to use fins. Michael chose to make this dive feet-first, meaning his ankles were weighted and his feet attached to the rope to help his alignment. This method – of pushing himself downwards – is more challenging, but Michael prefers to dive this way
Variable Weight
The diver rides a weighted sled to the announced depth, leaves the sled and self-propels himself to the surface. As a Free Immersion expert, Michael chose to pull himself up 101m using only his arms. Most athletes use their fins or a combination of fin and arms to reduce muscle fatigue and lactic build-up.
No Limits
The deepest of all disciplines, the diver descends on a weighted sled, and then uses a lifting device to bring himself back to the surface. Michael used an air bag, which he had to inflate with compressed air at the bottom and then ride the sled to the surface, leaving the sled at around 30-40m to slow his final descent to avoid decompression and lung injuries. Michael again chose to pull himself up the final metres.
DeeperBlue congratulates Michael and his team on these wonderful achievements. The Cheesman record event was organized by the Only One Apnea Center in Sharm el Sheikh and filmed for broadcast by Blue Eye FX Productions.
Photos courtesy of Blue Eye FX Productions (unless otherwise noted.)