Dahab, Egypt — This morning, British freediver Mike Board, 40, a former Royal Marine who now lives in Gili Trawangan, Indonesia, reclaimed his UK National Record in Free Immersion with a clean dive to 72m. The dive, held at the 'Freedive International' Minicomp in Dahab's Blue Hole, took 2 minutes and 41 seconds. Mike was again coached by four-times World Record holder Sara Campbell.
Board, who owns the freediving school 'Freedive Gili' on the Indonesian island of Gili Trawangan, returned to Dahab just over a year after his first trip in March 2010, where he set his first ever British Record with a dive to 68m in Free Immersion. His title was broken by Mark Harris in June last year and since then Mike has been training to increase his strength at depth in order to make an easy assault on the record again.
"It has been a busy year for me, setting up the school and yoga centre on Gili, but I never took my eye off the ball as far as my own training was concerned. It's great to return to Dahab, and to make such a convincing dive, adding four metres on to my previous record" said Board.
As well as reclaiming his Free Immersion title, Mike's intention was to also perform a clean dive in Constant Weight in order to secure an official ranking for consideration for selection to represent Great Britain at the World Championships, being held this year in Kalamata, Greece, in late September. Yesterday Mike recevied a white card for a very comfortable dive to 71m constant ballast. As with all World Championships, competition to gain a place on the team will be tough, but with a mediterranean-based competition this year (past years were Bahamas and Japan), the event will be more affordable and even more athletes are expected to apply for a place. Only those with an official ranking at an AIDA competition will be considered.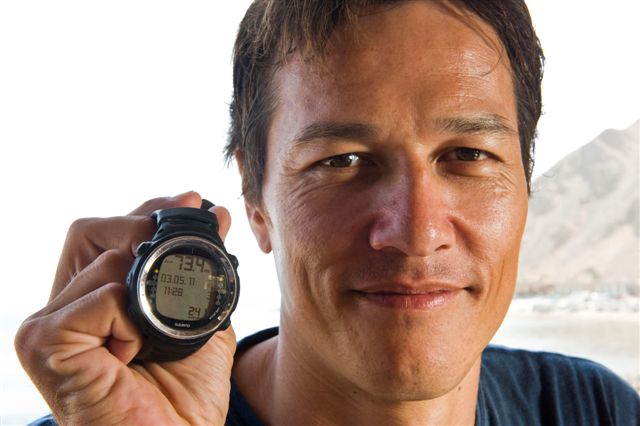 Photo courtesy of Jan Windszus