Liquivision announced the Xen, a new bottom timer with applications as a freediving computer. The device features a vivid OLED color screen with large easily visible fonts in a clean interface. The screen is angled and has 170 degree viewing angle. While it has no audible alarms, the angled screen makes the computer easily visible with just one glance. A big advantage of the device is it features 4 samples per second recording for approximately 40 hours of data. This allows for a very precise analysis of dive profiles via the PC interface for both Windows and Mac computers. Other features include optional bungee mount, stop watch, and customizable layouts. The suggest price is $495 with the first units shipping early December.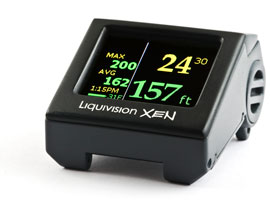 Get More Articles Like This!
Subscribe to our weekly newsletter and get more interesting stuff like this direct to your email inbox every Friday.