Yesterday Swedish adventurer Annelie Pompe was set to attempt a Variable Weight deep dive to -130 meters off the coast of Egypt but the marine weather conditions deteriorated enough such that it was not to be. The wind and the waves were not cooperating with the freediver's plans to set a world record and so Annelie and her team decided to do the safe thing and wait for another day.
"One look at the waves was really enough. "The wind pulled at our clothes, but we stayed. Just looking at the sea in silence. As if the watching of the waves could by willpower make them smaller. I would have loved to go for the world record attempt today. I'm sure I would have made my dive. But there's no use complaining about the weather. It will always be what it is. We have to adapt to nature."
It is this flexibility in her mental strength that has propelled Annelie to the tops of mountains, such as Everest and to the depths of the oceans. Adapting to these unpredictable fluctuations is key as Annelie writes in her blog: "Mentally it's like a game of hide and seek, or maybe of being in a roller-coaster. The focus is being brought up to sharpness, to be able to block everything unnecessary away, only to be hit with a hammer of cancellation and lay shattered for a few hours of disappointment. It's all about being able to adapt the mind to new situations. Like when something unexpected changes just a few minutes before a record attempt, or when someone says something that just sticks in your head."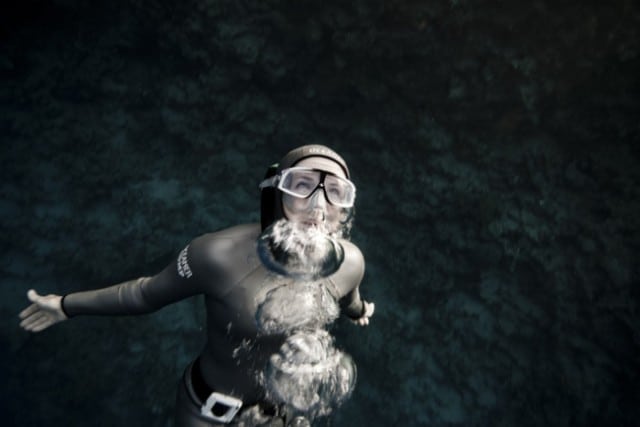 So now they wait for the winds to settle and with the waiting comes another exercise for Annelie to practice her mental strength:
"Part of my mental strength comes during the physical training. If you know you can endure physical exhaustion that knowledge will add to your mental strength. I believe the mental training is divided into several parts. The first part is only about getting to know the mind. It's about getting aware of what you are thinking, and how it affects you. It's about listening to all the voices and conversations inside your head. The next step is about letting go. Let go of all the thoughts you don't want. It's simple, but it's not easy. But you will get better by training. Every 100 times you let go of a thought is a way of getting more control of the mind."
Photo © Nanna Kreutzmann
Get More Articles Like This!
Subscribe to our weekly newsletter and get more interesting stuff like this direct to your email inbox every Friday.