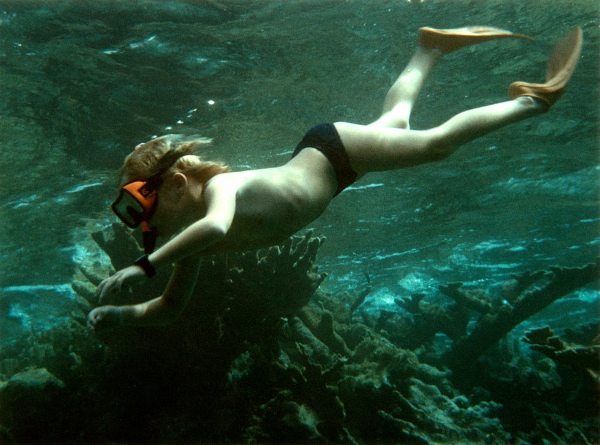 – TheBeginning
Inhale, exhale, inhale,exhale – long deep breaths. As I float on the surface and look down Istart thinking about how light and relaxed my body feels. I take a lastdeep breath, pack my lungs, release the snorkel from my mouth, close my eyes,forget the world above me, and begin my descent. You may be thinkingthis is a story about performance freediving or reaching incredible depths -but it is not. Below me is a small Nassau Grouper at about 30ft waitingfor me to come back down and give me a chin tickle . cheek rub.
This is a story about howI got into freediving and interacting with sharks. I do not hold anyrecords – either spear-fishing, static, dynamic or any other freedivingdisciplines. What I do love is being in the Ocean and interactingwith animals – from small to large.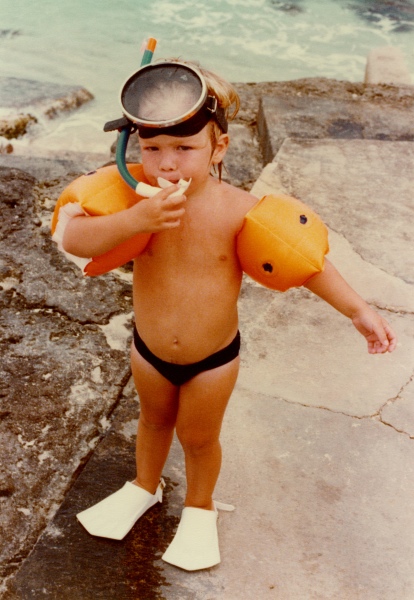 In my family I had littlechoice not to develop a relationship with the Ocean. I was born in theBahamas, and our back yard was literally a reef. Before I could walk myparents introduced me to the water – you could say even before that – my momwould dive while pregnant (not with tanks), and apparently I"saw" my first shark while in her belly – my dad loves to tell thestory of her starting to paddle back to the boat like a crazy woman and that hehad to grab her by the fin to slow down and relax.
After leaving the Bahamas,every vacation we took brought us to the Ocean – in those days you had to be 13years old to be certified by PADI – which forced me to freedive untilthen. To my father's disappointed and my mother's delight (I became herbuddy) I received my Jr. Open Water certification in Bonaire (which I stillhave to date). My SCUBA days did not last long, and by the time I was 15I was once again relying on my lungs.
photo by David Ulloa
My father, WolfgangLeander, has been an avid freediver for over 50 years and is definitelyresponsible for my taking to the sport – in our case really a religion. At the age of 6, my father was already immersed in the underwater world, hedevoured books that had images (not pictures) of sharks, divers, orcas,barracudas, giant squids and drew them himself.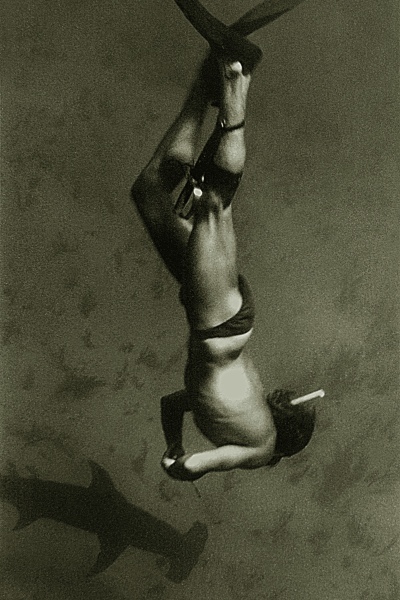 photo by Lynn Meeker
It was not until he movedback to Europe in the 50s that he started to dive in the Mediterranean Sea -like most divers back then, it was the hunt that brought them to theOcean. He would never take up SCUBA and has combined his other passion,photography, with freediving – particularly focusing on sharks (how theinterest of sharks came along will be part II of this article).
Over the years it seemsthat freediving has really become somewhat of an "extreme" sport, and has this aura of being only for daredevils and super athletes. Likewith any sport, there are always those that push the limits…but freediving ismuch more than depth or length of breath hold – it is about become part ofanother world. And while you should definitely be fit, it is a sport thatanyone can practice and learn to love.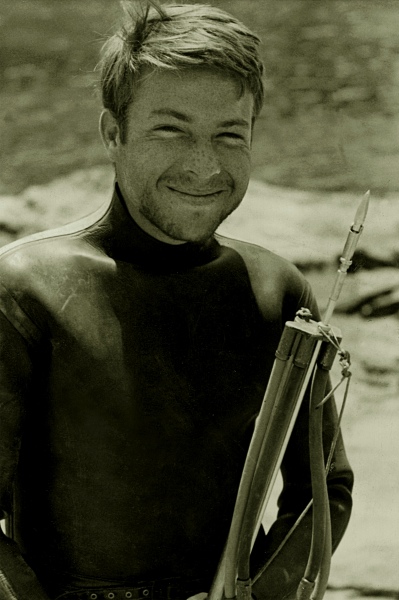 I always get the comment:"but you cannot stay down there long enough" – generally comes fromSCUBA divers – I usually tell the bubble blowers that anything I do does notrequire more time. Plus, the bubbles scare animals away – you can neverbe part of the environment with the cumbersome gear and the noisy discharge ofCO2 (unless of course you are on a re-breather, but that is expensive andrequires special certifications).
Freediving really boilsdown to mental preparedness and your ability to feel comfortable in the water -nothing more aside from a good pair of fins and mask. As with any sport,practice, practice, practice if you want to improve – and you have probablyheard this before – never freedive alone even when training in a pool.
Once you a comfortablefreediving – the next step could be to freedive with sharks…we'll keepthat for another day.
photography by Wolfgang Leander