Long Island, Bahamas — Igor Liberti has been freediving for more than a decade, but curiously enough this year's Vertical Blue is his only recent competition. The elegant freediver from Switzerland is typically found behind the lens of a camera. You're likely to have seen Igor's photogrpahic work featured in magazines like Hawaiian Skin Diver and their feature on Trubridge, "William's Fall to Grace", or in photos from international events such as the AIDA World Championships in 2009 and Project Hector last year. Well, Igor has come out from behind the aperture to show the world what he is capable of himself.
This past Sunday, April 10th, Igor Liberti performed a successful Free Immersion dive to 76 meters in 2 minutes and :42 seconds time, establishing a new national record for Switzerland. "I have not competed since 2005 when I was in Sicily during the "Rossana Maiorca Memorial Comp", William Trubridge was also there. I just recently discovered that I really enjoy free immersion… and that I can go much deeper this way, so I set aside my camera and started training FIM. I usually dive in my lake in Switzerland where I just reached -60 meters (with 5°C: in the winter!) so I felt ready to move over to paradise: Dean's Blue Hole."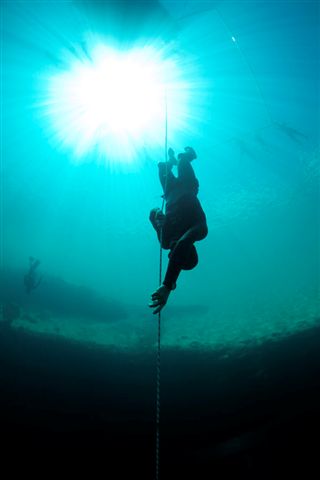 Liberti goes on to describe what the experience at Vertical Blue is like for him, "I've never been a big fan of competitions but here at the Vertical Blue, it's really different from any other freediving competition I've ever done in the past. The atmosphere is so familiar [sic] to me – I enjoy every moment that I share with the other athletes. Everyone is focused on improving and helping each other naturally. I don't feel much rivalry, so it's all very comfortable and relaxed. My dive to 76m went well. I tried to think 'it's just a normal training dive' to stay really calm during my warm-up. I had a few problems with my left ear at the bottom — I couldn't equalize properly and I had to push it a little bit — with no mouthfill and a mask I guess it's to be expected. So here we go, first competition achievement in 12 years in deep freediving. Never say never!"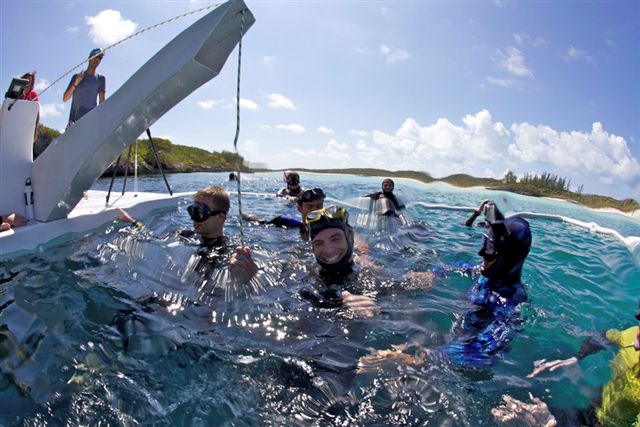 Photography ©DeeDee Flores.