Clear blue water, dazzling abundant coral, dolphins, whales, sharks, dugongs, Napolean fish, new reefs several times per day in exotic settings? Where do I sign up? Martin Stepanek of Freediving Instructors International (FII) along with several other FII instructors took freedivers on a rare liveaboard adventure to the Red Sea. "West meets Czech" or four USA residents travel way east to hook up with a couple of dozen freedivers down from the Czech Republic. We shared dives and great times aboard the MV Miracle I, owned and operated by the Lighthouse Dive Center. These folks know Egypt, diver's wants, and know how to show off the wonders of the Red Sea very well.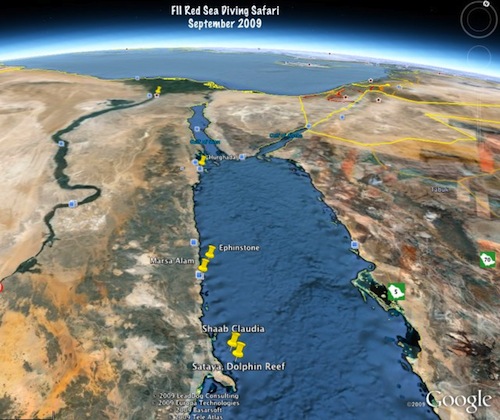 I asked Martin, twelve times world freediving record holder and owner of F.I.I. what his intent was in organizing these sort of trips? He answered: "As you could pretty much gather, with the flights involved etc., the intent of these excursions and events (Gulfstream Open, Camp in Hawaii, etc.) is not financial profit. What we are trying to do is to show people how they can use what they have learnt in our classes. Introduce them to the true freediving lifestyle. I'd seem a bit selfish and short sighted to teach people how to freedive and then let them go back to what they were doing before the class. There is much more that freediving can offer and very often most our students are not aware of this or don't know how to access it. I believe this is the best way to grow freediving and its healthy active lifestyle."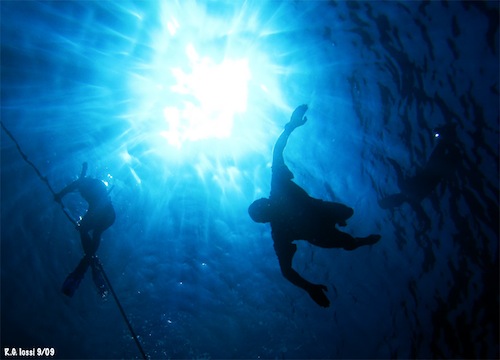 David Cani of F.I.I., based in Czech Republic even holds his course open water dives in the Red Sea. How cool is that?! Some of the divers had just finished their course two weeks previously but dove with skill and ease of folks diving far longer than that. It was a great group, with camaraderie both above and below the water. These folks know how to party in style. Roman brought his guitar and regaled us with some excellent Czech folk tunes. Tereza took up the guitar and added some great Czech songs of her own. The large, comfortable boat was ably manned by an Egyptian crew with abundant, well prepared meals, comforts and well appointed staterooms. With two zodiac tenders, water toys, we were well set for fun and interesting times.
Each day we dove about three spots. Clear warm blue water, dramatic vertical reef forms, lush healthy coral growth, strange and beautiful marine life. A daily diet of this can become habit forming so be warned! Where did we go and what did we see? Some high points follow.
We arrived at Dolphin Reef or Sha'ab Sataya with a sense of strong expectation. In the briefing, Honza Musil of Lighthouse and Martin outlined what would likely go on. Martin described capturing the dolphin's curiosity to bring them in and keep them around. He advised against challenging them to a race or breathhold competition lest we show how relatively inept and undolphin-like we truly are. So, we jumped into the two Zodiacs looking for a likely pod of dolphins to drop in on. We did just that several times. One pod loitered for a while and then suddenly exploded with dolphins shooting off in all directions like a firework burst! Whaaa …?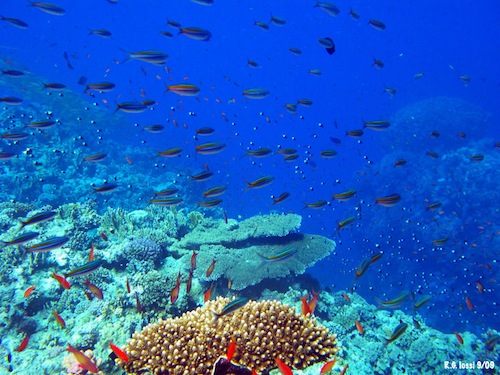 The next pod was the bell ringer for me, I was allowed to travel with the pod for about 11 minutes probably because they were intrigued by my dive scooter. They dawdled along allowing me to keep up at scooter speed, waited for me to catch up at times and even circled back to have me join them again. I would dive down and slide through the pod, pass below and above the dolphins over a substantial distance. Shot video the entire time, which can also be found on Deeper Blue forums. Still more videos are being edited from parts of the trip.
Next, we moved to Shaab Mahsour with a nice dropoff and potential for sharks. Unfortunately, no sharks but some incredible reefs and scenery. We went out for a short night dive later on. Artificial light reveals brilliant colors, add in the varied and rich Red Sea bottom forms and you have a special treat. We even came upon several lionfish that followed our dive lights around.
Claudia's Reef or the Labyrinth was the high point of the trip for many. It is a shallow circular reef terrace bounded by coral covered walls dropping to 10 to 20 m bounded by coral spires in particularly clear water. The reef is riddled with fascinating caves. These caves were usually large enough for a couple of divers abreast with overhead breaks for light and even air surfacing points. Some are a bit of a tight squeeze though. There is something about gliding through caves underwater, with light filtering in from overhead and ready exits in view. It is so peaceful and draws you in for more. You would see divers passing each other going in different directions while you hover just off the bottom in a third cave. We had a unique time freediving underground in the midst of corals with lots of fish, passing from air hole to air hole in the coral plateau underwater. The same day we traveled to dive an unidentified fifty year old wreck off Abu Galawa. The wreck had an amazing overgrowth of massive coral heads and yet you could still swim through the interior in places.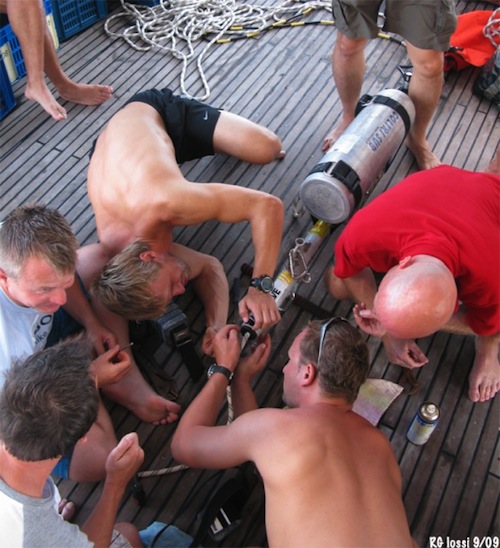 F.I.I. even brought a dive sled for us to try. Peter Satitpunwaycha from California designed the sled in a weekend and it was later constructed in Germany for a competition. Quite a few freedivers got to try the sled for drops to 25, 30 and 50 m over two days. The sled was setup next to spectacular walls adding to the experience. I was a bit nervous trying it the first time, but it turned out to be a unique fun dive like so much else on this trip.
Ephinstone is a famous and somehow of a mysterious reef. It rises out of deep blue water far from land and is home to large oceanic white tip, tiger sharks, dolphins, the odd whale and more. There was a strong wind blowing and good sea running when we eased up to tie into the reef. Martin launched into his animal interaction talk with typical insights and details. This time however he explained shark behavior right up to and likely during an actual attack?! If the later behaviors are shown you might want to get out of the water without delay. Memo to self, if the pectorals are down, the head is being shaken violently side to side, um, time to go. Got it. In we went to see the spectacle of the shallow reef being swept by rolling swells, down to the sand saddle extending southward from the reef at around 25 m, shortly vanishing into the depths beyond. It really is a stark, dramatic and beautiful place with amazing, precipitous walls. We had a Napolean fish show up, always a treat when they pose for photos. Martin clued us to roll our balled fists "egg style" to lure the fish in. Apparently they crave eggs and roam in at the suggestion. Where do they get chicken eggs from in the middle of the Red Sea?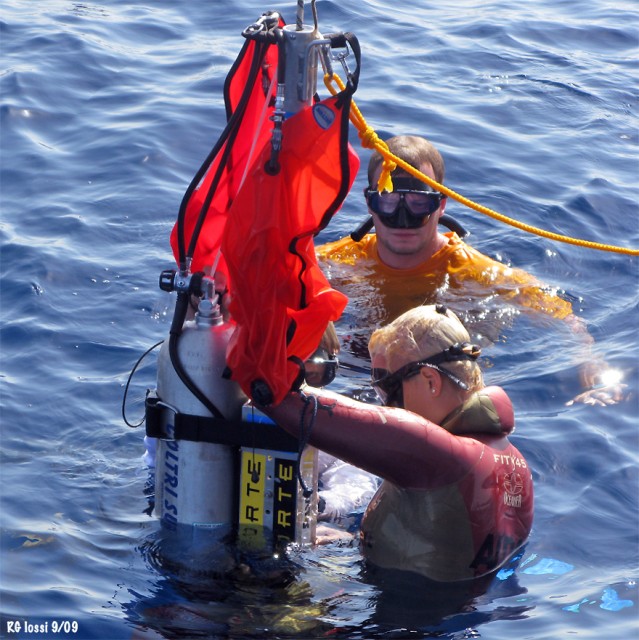 Did someone say dugong? Manatee like creatures although a bit smaller and with more of a fish-like tail as opposed to the pancake tail our sea cows from Florida. We went to President Mubarak's namesake bay on the Egyptian coast in quest of a solitary dugong who's frequented this waters for a decade. There are also massive turtles in the bay. They graze on the seagrass that grows on the sandy bottom. We chased around by zodiac again however it is a bit harder to see a solitary dugong on the bottom than a school of flashier dolphins. Our mate prevailed though and set us on the dugong as she industriously vacuumed the bottom with zeal. There were a passel of shark suckers on her, greedily hoping for a salad buffet? Later on, we launched into an impromptu cliff diving contest off the top deck of the boat. Folks went inflatable hot dog riding and wakeboarding behind a zodiac with zeal. Honza is a mean driver too, sounds easy to do, but with him spinning you off your inflato-wurst, it becomes a challenge. All this fun set in a brilliant red sunset behind the Egyptian mountain line to the west.
All good things come to an end, we eventually tendered gear and crew back ashore at Marsa Alam for the bus ride up the coast to Hurghada. I was able to fit in dives on the days before and after the liveaboard trip off Hurghada through the Lighthouse Dive Center, some impressive reefs off there well worth a visit. Some of us stopped to see the Pyramids in Cairo before flying home. The F.I.I. Red Sea Freediving Safari was an excellent experience, I highly recommend it! Thanks to F.I.I. and the Lighthouse Dive Center for a marvelous trip. I understand this may become an annual tradition, don't miss out on next years trip!